The same gown was worn when three ... Brides made their trip down the aisle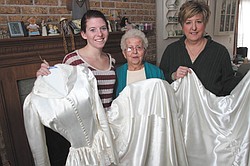 Photo
Holding the wedding gown that has been passed down for three generations are Lyndsey Wade, Jean Rabold and Dawna Cramer.
By Sean Barron
GREENFORD
Nearly everyone who gets married hopes to share wedded bliss, companionship and a fulfilling marriage and life.
But three generations of one family have shared something else: a wedding gown.
"My mom bought it new in 1951 for $49 in Sharon, Pa.," said Dawna J. Cramer, referring to the off-white gown with a peplum skirt and cathedral-length train in which her mother, Jean Rabold, got hitched Feb. 3, 1951.
After Rabold and her husband, John, were married on a day with a temperature of minus 11 degrees, the gown was mothballed for years. Then on Oct. 16, 1982, Cramer wore it when she married her husband, Thomas. That day was special for Cramer in more ways than one, though.
"It [also] was my 21st birthday and Sweetest Day. He always said that if he ever forgot our anniversary, he'd have three strikes right off the bat," she said recently from the Cramers' Lisbon Road home.
The latest family member to walk down the aisle in the gown was Cramer's daughter, Lyndsey Wade of Alliance, a part-time, state-tested nurse's aide at Greenbriar Healthcare Center in Boardman, who also is studying fashion merchandising at Virginia Marti College in Lakewood, Ohio.
Wade and her husband, Bryan, who served four years in the Marines, were married Dec. 29, 2012, in Poland Village Baptist Church after having met through one of his relatives.
Cramer, a Kent State University graduate and a speech-language pathologist with Vista Center in Boardman and Lisbon, said the gown has always occupied a special place in her heart.
"I was fascinated with the gown my mom wore and always wanted that dress," said Cramer, who met Tom when the two worked at a Wendy's fast-food restaurant before getting together again a few years later via a mutual friend. "I was always fascinated by the train; I always thought it was so pretty."
Despite its age and history, the gown needed little more than a few touch-ups when Wade tried it on last May on Mother's Day. Wade also made a veil to go with it.
"I always said I want them to wear it," said Rabold, of West Middlesex, Pa., who worked at the former G.C. Murphy Co. store in Sharon and Goodwill Industries Inc. in Hermitage, Pa.
An unexpected start to their marriage awaited Rabold and her husband, who worked 42 years as a roll grinder for Sharon Steel and served six years in the Army. Inclement weather made it impossible to get to their honeymoon destination near Niagara Falls, N.Y. After reaching Erie, Pa., the couple decided to turn around and head south, which took them into Maryland.
Nevertheless, the Rabolds recently celebrated their 62nd anniversary.
So, who will be next to don the six-decades-old family heirloom? It's impossible to say, but one thing is certain: It's not going anywhere anytime soon.