Junior Group of Goodwill to host gala and auction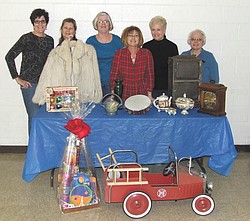 Photo
SPECIAL TO THE VINDICATOR Items on display will be auctioned during the Junior Group of Goodwill Antique and Collectible Auction at Stambaugh Auditorium on March 2. Volunteers are, from left, Kathy Gerberry, Chris Grabert, Diana Strudwick, Sue Miller, Jeri Kurian and Shirley Rodgers. The two-day event will begin with a gala March 1, also at Stambaugh.
YOUNGSTOWN
The 20th annual Junior Group of Goodwill Antique and Collectible Auction and Gala will be March 1 and 2 at Stambaugh Auditorium, 1000 Fifth Ave.
The event begins with a patron party from 7 to 9:30 p.m. March 1 and will include the sale of a large array of collectible jewelry and an auction of new items such as Disney Park passes, sports tickets, fine jewelry and more.
The event also will include a basket raffle, silent auction, basket auction, 50-50 raffle, hors d'oeuvres, pastries and a cash bar.
Tickets for this event are $25 per person before Feb. 25 and may be purchased at the Goodwill offices on Belmont Avenue in Liberty or at any of the eight area Goodwill stores. After the deadline, tickets will be $30 each, if available.
The antique and collectible auction March 2 will start with a preview at 10 a.m., and the auction will begin at 11. The collectible jewelry sale opens at 10 a.m.
The auction will feature items collected through Goodwill donations, including furniture, dolls, pictures and frames, cameras, clocks, radios, comic books, leather goods, cowboy hats, boots and jackets, old books and papers, loaded jewelry boxes, silver plate, glassware, vintage toys and games, military items, musical instruments, vintage Christmas decorations, depression and carnival glass, Jim Beam decanters and more.
George Roman Auctioneers will preside.
Admission is $2 at the door. Those who purchase a ticket for the patron party will get in free with their ticket stub at the auction.
For information about the auction or tickets, call the Goodwill marketing department at 330-759-7921, ext. 1207.
Proceeds from the event will benefit Goodwill's job training and employment service in Mahoning, Trumbull, Columbiana, Mercer and Lawrence counties
Sponsors of this year's auction are Home Savings Charitable Foundation, Aim National Lease, Gasser Chair Co., Yurchyk & Davis CPAs, USI Midwest Inc., Allied Waste Services, PNC Bank, Akron Children's Hospital Mahoning Valley and Fleming National Lease.
More like this from vindy.com