Boardman Daddy-Daughter Dance again a sell-out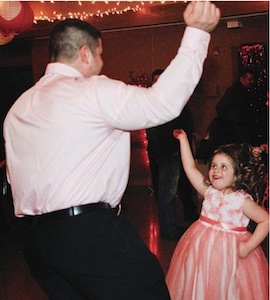 ---
Their Hearts Belong to Daddy
BOARDMAN
Few things are more memorable in the life of a young girl than her first official night out with a guy — especially when that guy is a man she will love her entire life.
That love and special connection between father and daughter is the idea behind the annual "Daddy Daughter Dance" in Boardman Park. Each night this weekend, dozens of fathers wearing their best attire are escorting their little princesses to the park for an evening of dining and dancing.
Karen McCallum, Boardman Park recreation specialist, said the dance started 10 years ago as a way for fathers and daughters between 5 and 12 years old to get out of the house and spend time together, but it has been growing every year since then.
"I always have my ears open for suggestions, and someone suggested it. ... I said, 'OK, let's do it,'" said McCallum.
The dance took place on one night its first year and quickly sold out. Organizers then began having the dance over two days, and it still sold out. This year, the dance is over a three-day period and again sold out.
The father and daughter participants are greeted at the door by a large picture of Cinderella under the words "Boardman Park's
Daddy Daughter Dance." Once inside, they are taken to an area for professional photographs before dinner.
Each father presents his daughter with a rose, and the group of men serenade the girls before taking to the dance floor.
"This is just a great opportunity for dads to take out their daughters and tell them that 'you want to marry a man like me, honey, someone who will treat you well and take you out to dance,'" said McCallum.
Ramon Cuevas attended this year's dance with his 10-year-old daughter, Raelyn, but he has been an annual fixture at the event since separating from his wife six years ago. He said he has used the dance as an opportunity to connect with his three daughters around Valentine's Day.
Cuevas likely will be coming to the dance for years to come. He says he has a younger daughter who will be old enough to attend in a few years.
David Gabriele of Boardman has attended the dance in past years with his older daughter who is now 13 and too old to attend, and he attended this year with his 12-year-old daughter, Gina, for what will be her last year. But he said the father-daughter time in the family will not end. Gabriele said he plans to continue with annual daddy dinners between himself and the girls.
"I think it's nice for a dad to find out things about his daughter that he might not find out at home when she's with her mom or brothers or sisters," he said.
James Codner and his 6-year-old daughter, Karly, came out dressed in matching pink and black. It was their first year attending the dance, but James said not likely the last.
"I want to be active in my daughter's life. I want her to trust in me and know that we can have fun," he said. "I want her to have this positive father-daughter time and know she is special."