Chapel of Friendly Bells hosts 8 walk-in weddings
Walk In Wedding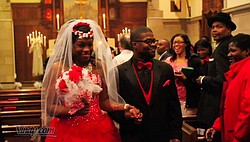 Video
A Youngstown Church offered walk in weddings on Valentine's Day.
By LINDA M. LINONIS
youngstown
Faydra Thompson of Buffalo, N.Y., said yes to a ruffled, red ball gown with bedazzled bodice. But more importantly, she said yes to Jonathon Spikes of Youngstown.
The two were married Valentine's Day in the Chapel of Friendly Bells at Trinity United Methodist Church, 30 W. Front St. There were eight weddings and one vow renewal during the walk-in wedding event Thursday at the downtown church.
For the Thompson-Spikes wedding, about 20 family members and friends, some wearing red for the occasion, gathered in the chapel to witness the ceremony.
"Valentine's Day is the most romantic day of the year," the 33-year-old bride said. "Who wouldn't want to get married then?"
The practical side of the bride emerged when she noted, "This was an affordable and beautiful place to get married without a big cost."
For her mother, Alice Jenkins of Youngstown, wearing a red pants suit and matching purse, "It was beautiful ... and in the eyes of the Lord."
The bride said it was important to her to be married in church.
"Being married in church is meaningful to me," added the groom, 34, who said he was raised in church.
Spikes said they learned about the walk-in weddings when they went to get their marriage license. "They told us about Pastor Krueger," he said.
The bride's 5-year-old twin sons, Alex and Allen Hill, added to the festive flair in white hats and sport coats. The groom wore a black suit accented by a red vest and tie.
The Rev. Jerry Krueger, pastor of Trinity UMC, and his wife, the Rev. Susan Brown, pastor of Canfield United Methodist Church, officiated at the ceremonies, which included the traditional vows and exchange of rings. Pastor Krueger referred to passages from Colossians 3:12-14, which mentions kindnesss, patience and forgiveness.
Geri Balch, 23, originally from Mantua, Ohio, and Ricky Snyder, 32, of Liberty, also were wed. "This was the perfect opportunity," Snyder said. "Valentine's Day is about love."
His bride, who wore a short, sparkly white dress, agreed. "What better day to get married?" She said she also appreciated the chance to be married in a church.
Tamara Mortimer of Mantua, the bride's mother, said, "It's made the family whole." The groom's mother, Thelma Bartolomeo of Liberty, agreed. The newlyweds are parents of 3-year-old Slade.
The day was especially memorable for Benjamin Reynolds, 28, who married Vallon Tai Fields, 24. It was their wedding day, her birthday and Valentine's Day.
Kimberly Wallace and Richard Camelli of North Jackson have been together 26 years. Last June, a drunken driver hit them head on, leaving her with two broken legs and broken arm and he was injured as well. "It was life-changing," Camelli said. "We survived for a reason."
She is still recuperating, wearing a brace on her injured ankle and using a walker after being in rehabilitation for three months. "When we got the license, we saw the walk-in wedding information," she said.
Joan and Ron Firestine of Boardman renewed their marriage vows. The couple, whose 40th anniversary will be Dec. 22, were married in the Chapel of Friendly Bells. They had renewed their vows on their 25th anniversary. "This was a perfect opportunity," she said.
"It's about love."