Technology takes literacy to new levels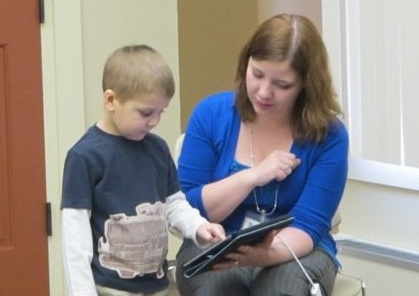 ---
By NATALIE SCOTT
The Boardman library hosted a technologically-advanced story time Jan. 29. The Launch Into Literacy Day was intended to give parents and children experience using a tablet, iPad, or laptop to read books. The story time was also a chance for those who already have these items to find new apps and websites to use to gain this reading-friendly technology.
The story time, led by librarian Katherina Matasic, began with an interactive version of "Goldilocks and the Three Bears." Matasic projected the story from one of the library's iPads onto a screen so that all the people who attended the story time could see. In addition to telling the story, the story had special features that would make animations in the story when certain things were pressed. Matasic invited each child to try the iPad and engage with the story. This free app also featured a read-to-self or read-to-me option so children beginning to read could use either option to learn.
Another interactive book Matasic used at the story time was an alphabet book that contained games for each letter to help teach letter sounds and words.
Matasic also discussed Tumblebooks, which are interactive stories that include games to help children remember parts of the story. They also give you information on how long it will take to read the book and what age level it is apporiate for. Tumblebooks are available on the library's website at www.libraryvisit.org.