Pee Wees go 3-1 during western Ohio swing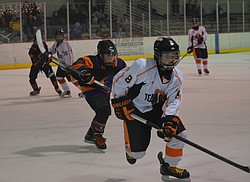 Photo
Phantoms players battle a Team Ohio player for the puck.

Photo
Youngstown's RJ Pozzuto races through two Team Ohio defenders during their game last weekend.
The Youngstown Phantoms Pee Wee AA team traveled to Cincinnati and Dayton Feb. 2-3 to play Team Ohio and the Queen City Steam.
Team Ohio plays in the AAA division. In the first game at Cincinnati Gardens, Youngstown won 6-5. The Phantoms trailed 2-1 at the end of the first period. The lone goal came by Drew Murphy (Austintown), assisted by Devin Kelly and Stone Elias (Canfield).
Youngstown erupted for four goals in the second period to start the final period tied 5-5. Scoring in the period were Murphy, RJ Pozzuto, Elias and Devin Whitaker (Boardman). Getting assists were Whitaker, Tallon Price (Poland) and Maguire Franko (Poland). Drew Murphy scored the winning goal with 7:44 left in the game.
Nick Beck (Boardman) faced 45 shots in goal.
A few hours later, Team Ohio defeated the Phantoms 3-1 in probably the most physical game of the season. The game was tied 1-1 until 9:02 left in the third period. Scoring for Youngstown was RJ Pozzuto, assisted by Devin Kelly. Colin Frost (Boardman) faced 41 shots in goal.
On Sunday, the Phantoms traveled north to Dayton to face the Queen City Steam. Youngstown won the first game 8-2 and the second game 9-1. Several Phantoms players racked up a lot of points in those two victories.