Junior Group of Goodwill hosts gala and auction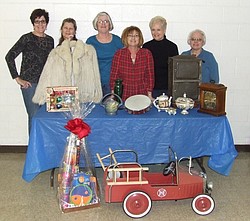 Photo
Neighbors | Submitted .Junior Group of Goodwill volunteers (from left to right), Kathy Gerberry, Chris Grabert, Diana Strudwick, Sue Miller, Jeri Kurian and Shirley Rodgers display items to be auctioned off during the Junior Group of Goodwill Antique and Collectible Auction at Stambaugh Auditorium on March 2. 
The annual Junior Group of Goodwill Antique and Collectible Auction will be held March 1-2 at Stambaugh Auditorium, with George Roman Auctioneers presiding.
Proceeds from the 20th annual event will benefit Goodwill's job training and employment services for people with disabilities and other barriers to employment in Mahoning, Trumbull, Columbiana, Mercer and Lawrence counties. Home Savings Charitable Foundation, Aim NationaLease, Gasser Chair Co., Yurchyk & Davis CPA's, USI Midwest, Inc., Allied Waste Services, PNC Bank, Akron Children's Hospital Mahoning Valley and Fleming NationaLease are sponsors of this year's auction.
The event begins Friday with a patron party from 7 to 9:30 p.m. Festivities include a collectible jewelry sale, featuring several thousand pre-priced pieces, an auction of new items such as Disney Park passes, sports tickets, fine jewelry and mmore. The event also includes a basket raffle, a silent auction, a Chinese auction, 50-50 raffle, hors d'oeuvres, pastries and a cash bar.
Some of the jewelry available during the event include several vintage authentic pyrope garnet pieces, Joan Rivers watches and pins, a freshwater pearl and black crystal necklace, a men's Seiko watch, a Tiffany & Co. cuff bracelet, Bakelite pieces a Hollycraft pin and more.
Ticket prices for the Friday party are $25 per person and can be purchased at the Goodwill offices on Belmont Avenue in Liberty or at any of the eight area Goodwill stores. Tickets must be purchased in advance and the deadline is Feb. 25. Tickets purchased after the deadline will be $30, if they are still available. Those who purchase a ticket for Friday evening get in free on Saturday with their ticket stub.
Saturday will feature the antique and collectible auction of items collected through Goodwill donations. Preview for the auction will begin at 10 a.m. with the auction starting at 11 a.m. The collectible jewelry sale will open at 10 a.m. Admission is $2 at the door.
The auction will include many collectibles and antiques, such as furniture, dolls, pictures and frames, cameras, clocks, radios, comic books, a large lot of leather goods, cowboy hats, boots and jackets, old books and papers, loaded jewelry boxes, silver plate, glassware, vintage toys and games, military items, musical instruments, vintage Christmas decorations, Roseville, Hull, McCoy, depression and carnival glass, Jim Beam decanters and more.
For questions, call Goodwill's marketing department at 330-759-7921, extension 1207.
More like this from vindy.com