D&L owner charged, workers claim ordered to lie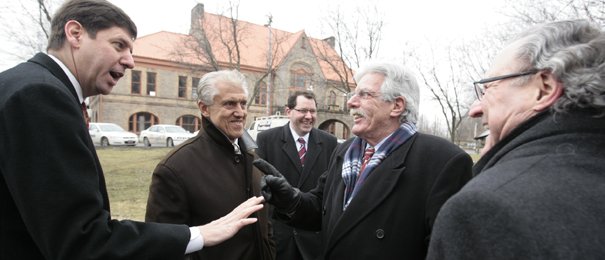 ---
SEE ALSO: Activist blasts Mahoning leaders for water sale to CNX Gas
By JAMISON COCKLIN | jcocklin@vindy.com
YOUNGSTOWN
Like the Mahoning River, the future of Ben W. Lupo, embattled owner of D&L Energy and Hardrock Excavating, is a bit more murky.
Final Analytical Report for Ohio EPA-NEDO

Document
Analytical report prepared by TestAmerical Laboratories, Inc. for Ohio EPA-NEDO regarding suspected water contamination by D&L Energy Group.
D&L Sample Results Statement

Document
Statement from ODNR and Ohio EPA: Sample results from D&L Oil Field Waste Brine Dumping into tributary and Mahoning River
US vs. Ben Lupo - Criminal Complaint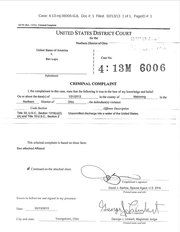 Document
United States District Court for the Northern District of Ohio: Criminal Complaint, Case No. 4:13M 6006. United States of America v. Ben Lupo.
Flanked by high-ranking state and federal officials, U.S. Attorney Steven M. Dettelbach announced that Lupo has been charged with one count of violating the U.S. Clean Water Act.
State and federal regulators, along with Ohio Attorney General Mike DeWine, gathered along the banks of the Mahoning River, where over the years millions have been spent to clean up the waterway, to tell a crowd of reporters, residents and activists that Lupo's actions would not be tolerated. He eventually also will face civil charges brought by the state, DeWine said.
In a whirlwind of activity Thursday, new details emerged about an incident Jan. 31, when regulators discovered that Lupo had instructed an employee of Hardrock Excavating to dump thousands of gallons of oil, brine water and drilling mud down a storm drain at the company's 2761 Salt Springs Road headquarters. The waste discharged into a nearby creek and then seeped into the Mahoning River.
In response to the early findings of a criminal investigation, an affidavit was filed in support of the federal charge, leading to an arrest warrant and Lupo's decision to turn himself in early Thursday.
He posted $50,000 in unsecured bond, pleaded not guilty and waived his right to a preliminary hearing, instead allowing Magistrate Judge George J. Limbert of U.S. District Court in Youngstown to turn him over to a federal grand jury, where he could face as many as 20 counts of illegal dumping and other charges.

"This charge should serve as a warning to anyone that places their personal interests ahead of the public's safety," said Jim Zehringer, Ohio Department of Natural Resources director.
"ODNR will continue to aggressively pursue and seek prosecution of any business or individual that blatantly disregards the laws we have in place to protect Ohio's communities and natural resources."
Court documents make clear the uphill battle Lupo likely will face in coming months.
According to the affidavit, based on sworn statements from David J. Barlow, a special agent with the U.S. Environmental Protection Agency's Criminal Investigation Division, one of Lupo's employees said Lupo had instructed similar waste dumps on 20 separate occasions.
Upon further questioning from Barlow, the employee said Lupo instructed those dumps be made after dark and "only after no one else was present at the facility."
The revelation is troubling, considering that regulators revealed there are 58 temporary storage tanks at 2761 Salt Springs Road, each capable of holding 20,000 gallons of drilling waste.
After receiving an anonymous tip on Jan. 31, ODNR inspectors arrived to discover a hose connected to one of those tanks discharging into a storm drain.
When the Ohio EPA was called the next day to examine the contents of those tanks, a "very dark, oil-like" substance, similar in appearance to motor oil, could be seen. OEPA officials detected puddles of oil throughout the length of the nearby tributary and "oil and oil sheen were visible in the Mahoning River" farther downstream, according to the affidavit.
Court documents show Lupo's insistence that his employees lie to investigators if asked how regularly the dumping incidents occurred — instructing them to say the violations had happened only four to six times before.
Test results taken from samples, obtained by The Vindicator, show that several hazardous pollutants were detected in the drilling waste that spilled into the creek and river.
Among them were benzene and toluene. Benzene is a flammable, colorless liquid that is a natural part of crude oil, gasoline and cigarette smoke. According to the American Cancer Society, studies have demonstrated the substance causes cancer.
Toluene is water-insoluble and often found in paint thinners. Its low solubility makes it difficult for the body to expunge by sweat or bodily fluid.

If convicted of the current charge, Dettelbach said Lupo faces up to three years imprisonment and a $250,000 fine.
However, facing a grand jury means more charges could be considered for Lupo, as the jury usually meets in secret to hear arguments from a prosecutor. In that case, jurors could take into account the investigator's findings that he instructed dumping on 20 occasions, meaning he could be indicted on separate counts.
DeWine said federal charges were filed because the U.S. Department of Justice has the ability to charge violators under stronger federal laws. Still, he added that civil charges will be pursued.
"It is our intention to take civil action as well. We have illegal storage, illegal transportation and illegal disposal,"
DeWine said. "The potential fine under state law for each one of these separate violations per day is between $2,500 and $20,000. This action will be filed by the attorney general's office on behalf of the state."
A separate effort is under way to shore up the state's laws on permitting oil and gas operators and tightening regulatory oversight of the industry.
Under state law, brine shipments are tracked with daily logs that are sent to ODNR. Asked if it was possible that Lupo was accepting more brine shipments than he could store, Richard J. Simmers, chief of ODNR's Division of Oil and Gas Resources Management, said it was "entirely possible." Haulers are paid by each shipment, raising the question of whether Lupo was accepting waste, dumping it and getting paid to take more.
Simmers said regulators are working to examine the brine-hauling records of Hardrock Excavating to determine whether Lupo was profiting in any way by making repeated dumps.
State Sen. Joe Shiavoni of Boardman, D-33rd, in cooperation with the Ohio Attorney General's Office, the John Kasich administration and other Republican lawmakers, is working to draft legislation to increase the penalties for first-time violators and make it nearly impossible for operators to receive permits if they knowingly break the law.

Though regulators can now issue violations, there is no law that bars transgressors from receiving future permits after incidents occur.
Both Schiavoni and state Rep. Robert Hagan of Youngstown, D-58th, hailed Lupo's swift prosecution, saying it sent the right message of balance between protecting the environment and pursuing economic development through the state's emerging oil and gas industry.
U.S. Rep. Tim Ryan of Niles, D-13th, added: "I am supportive of the federal prosecutor's involvement, and if the alleged violations occurred, then there must be justice. We cannot allow our environment to suffer because of unlawful and immoral actions, and we must show any would-be polluters that any infractions will be prosecuted to the fullest extent of the law."
Asked if state and federal officials were weighing any of Lupo's other environmental infractions, stretching back to the 1970s, Dettelbach said no. But DeWine said Gov. John Kasich has requested that those infractions be examined closely.
At this point, Dettelbach added, Lupo's other companies — about 20 of them — are not subject to this investigation. He offered few details but said those operations could eventually get a second look if investigators deem it necessary.
Furthermore, where the drilling waste was coming from still remains unclear, as regulators continue to examine records. Officials on Thursday could say only that the waste was coming from "active drilling sites in Pennsylvania and Ohio."
Last week, in an unprecedented move, all of D&L Energy's permits were revoked, idling its injection wells. At the same time, regulators revoked Hardrock Excavating's permit to haul brine water.
More like this from vindy.com