Card sharks attend Shepherd event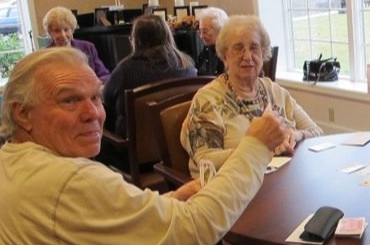 ---
By NATALIE SCOTT
The Poland branch of the Shepherd of the Valley (SOV) hosted its monthly card show Jan. 30 for seniors, both within SOV and in the community.
The card games started about five years ago and, at first, only included people staying at SOV. Now, the games are open to the public (any person 55 or older).
There are no strict guidelines on what types of card games are played at this gathering. Many times, groups of the same people come together each month to play the same games, such as 500 Bid, Poker, Euchre, Hand and Foot, Bridge, and more.
The SOV is not the only place these groups come together to play, either. The group containing Barbara Fleming, Edie Cunningham, Anne Beck and Shirley Rosine said it has been coming to this event since it started and they will play anywhere cards are being played.
The card games at SOV in Poland typically take place on the last Wednesday of every month, except December. Many of the games include a luncheon, but even the ones that do not, offer snacks and coffee or tea to attendants.
All food distributed during these games is made at Shepherd of the Valley.