Irish bounce back from sloppy first half against East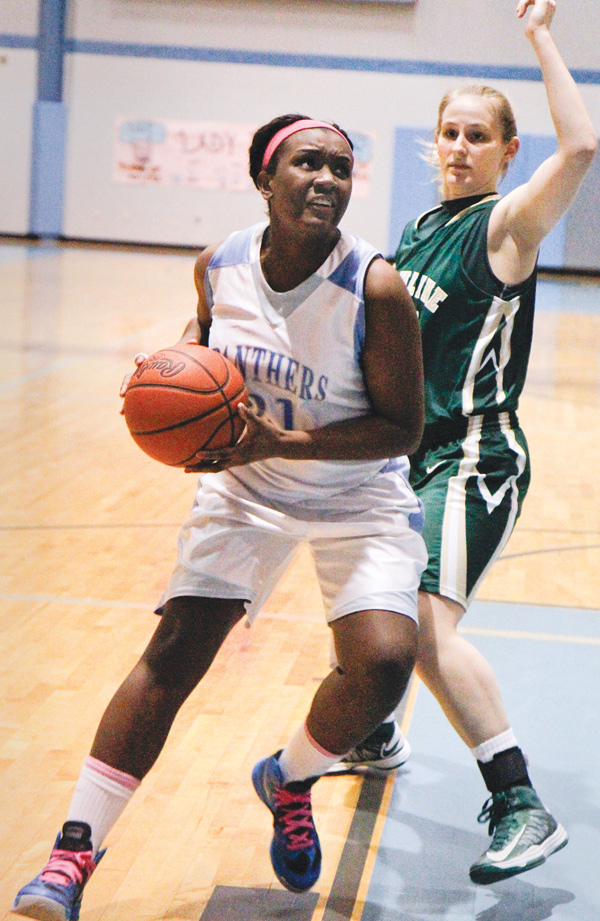 ---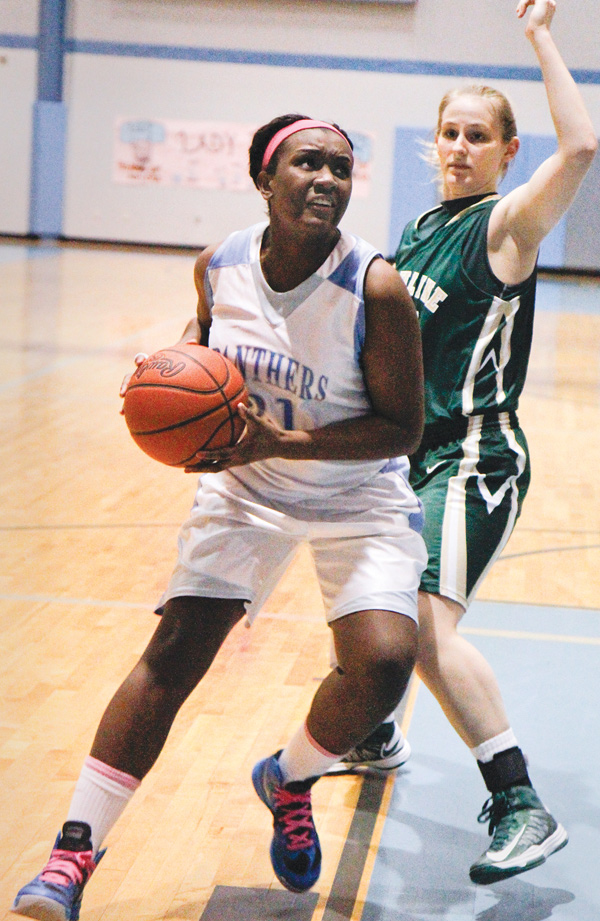 Photo
East's Ashlyn Baker (21) makes a move to the basket against Ursuline defender Mary O'Donnell (15) during their basketball game Wednesday at East High School. The Irish defeated the Panthers, 52-44.
By Steve Wilaj
YOUNGSTOWN
After watching her team play a sloppy first half of basketball at East High on Wednesday, Ursuline coach Courtney Davidson went into the locker room with a purpose.
"We challenged our girls at halftime," she said. "We didn't feel like they were giving us their best effort. I think we were getting outhustled. East always plays aggressive and hustles, and if you don't come up and match their intensity from the jump, it'll be a long game with them."
Able to flip the switch, the Fighting Irish defeated East, 52-44, behind a decisive third-quarter push. In the third period, Ursuline outscored the Panthers 17-12 to build upon its 22-20 halftime advantage.
"The third quarter's been our struggle throughout the whole season," East coach Tanisha Franklin said. "We've always been off to a slow start in the third quarter and they just took advantage of it."
Ursuline's strong third quarter was led by Tanaya Beachem, who scored 10 of her 14 points in the period. She received help from teammate Sydney Beasley, who scored a team-high 15 points to go along with 11 rebounds.
"They've pretty much carried us all year," Davidson said. "They're our go-to players, so they do carry us a lot of the games. But we had some other players come in and give us some other things defensively — things that don't show up in the stats."
Another halftime adjustment the Irish (10-11) made was to face-guard East's Chmicka Kennedy. The senior guard still finished with 16 points, but became visibly frustrated by Ursuline's defensive strategy.
"Everybody knows that Chmicka's a good ballplayer," Franklin said. "So that's expected. Keying on her and taking her out of the game is stuff that we face throughout the season. The other girls just have to do a better job of stepping up when they take one option away."
East (4-14) got a solid contribution from Ashlyn Baker, who finished with a game-high 18 points. Still, Davidson agreed that slowing Kennedy was key, as well as good practice for future situations.
"That's out of respect. I know that she's a senior guard and ready to play at any given moment," Davidson said. "It's also something we wanted to practice for later, for the tournament."
Ursuline finishes the regular at Green on Saturday. A week later, the Irish will face either Girard or LaBrae in a Division III sectional final at Mineral Ridge.
"We're excited about it," Davidson said. "We've had a long season playing a tough schedule, so we're excited to go play against some teams in our own division and see where it takes us."
Meanwhile, Franklin said the Panthers are ready to test their talents in the Division I tournament.
"We're going to practice. We're not going to hide from anybody," she said. "We're just going to have to go out there and play with everything that we have."