UPDATED | Lupo charged; 'hazardous pollutants' found in samples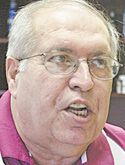 Photo
State regulators revealed that man-made chemicals were discovered in samples taken from storage tanks at 2761 Salt Springs Road, the site of last month's illegal drilling waste dump.
At a just completed news conference at the B&O Station near the Mahoning River, U.S. Attorney Steven M. Dettelbach said hazardous pollutants including benzene and toluene were found in samples from the tank and the river.
In court papers filed today, the presence of chlorides was also detected which is "indicative of brine ..." Those same records indicated that an employee told investigators that Lupo began discharging the waste as early as November 2012. The employee said he was aware of 20 separate dumping incidents.
Richard J. Simmers, chief of the Ohio Department of Natural Resources' Division of Oil and Gas Resources Management also confirmed that it was entirely "possible" that Lupo had been accepting the waste at his company's headquarters on Salt Springs Road solely for the purpose of dumping so he could continue taking more waste to make money. ODNR officials are examing brine hauling records to determine if Lupo's companies were taking on more waste than they could dispose of under state law.
Chris Abbruzzesse, spokesman for the OEPA, said comprehensive test results would be released by the end of the day.

Also at the news conference, Ohio Attorney General Mike DeWine said he beleives Ohio's laws covering such environmental cases should be strengthened, saying they should reflect the stiff penalties under federal law. He added that Gov. John Kasich has requested that his office take a closer look at Lupo's history of violations, which stretch back to the 1970s. Given the circumstances, DeWine said, it is likely the state will pursue civil charges as well.
Earlier today, the office of Magistrate Judge George J. Limbert confirmed that Ben W. Lupo, owner of D&L Energy and Hardrock Excavating made his initial appearance in U.S. District Court in Youngstown.
Lupo self-surrendered after criminal complaint and arrest warrants were issued. He waived a reading of the complaint, pleaded not guilty and retained council.
He was released on $50,000 unsecured bond. Lupo has been charged with violating federal laws after he admitted to instructing employees to dump hundreds of thousands of gallons of drilling waste into a storm drain that discharged into a nearby creek and into the Mahoning River.
If convicted of violating the Clean Air Act, Lupo faces up to three years imprisonment and millions in fines.
This is a developing story; read more on Vindy.com and in Friday's Vindicator
More like this from vindy.com