Published: Thu, February 14, 2013 @ 12:09 a.m.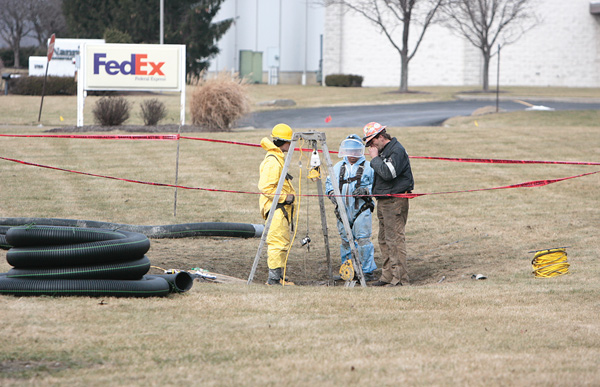 Photo
Workers prepare to go inside a storm sewer system after gaining better access to clean drainage in the aftermath of last month's oil and brine dumping at 2761 Salt Springs Road.
and Marc Kovac
COLUMBUS
Gov. John Kasich said the state may need to change permitting laws to prevent people who illegally dump oilfield waste into storm sewers from continuing their Ohio operations.
The governor offered the response when asked whether the individuals involved at 2761 Salt Springs Road in Youngstown should serve jail time if found guilty of the crime.
"We don't want people dumping fracking fluid in a storm water [drain]," Kasich said at the Ohio Newspapers Association's annual conference Wednesday evening. "When they do, we're going to go after them. We have tough regulations, good regulations, probably the best in the country, so that if we do have mistakes ... the public will know that we've been on top of it."
The Ohio Department of Natural Resources and the Ohio Environmental Protection Agency have announced the permanent revocation of permits of D&L Energy and Hardrock Excavating after investigators watched employees dump tens of thousands of gallons of oilfield waste into a storm sewer.
The incident occurred Jan. 31 when, according to OEPA documents and other reports, Ben W. Lupo, owner of D&L Energy, directed employees of Hardrock Excavating, which he also owns, to dump a mixture of oil and brine water down a storm drain at the company's headquarters on Salt Springs Road. The drilling waste made its way into a nearby creek and then into the Mahoning River.
Today, Lupo will go before Richard Simmers, chief of Ohio Department of Natural Resources' Division of Oil and Gas Resources Management, for an informal hearing. The hearing will provide Lupo with an opportunity to argue against that decision and have Hardrock's brine-hauling permit reinstated.
Because it operates injection wells, D&L's permits will be dealt with separately. Lupo has 30 days to make an appeal with the Ohio Oil and Gas Commission or Mahoning County Common Pleas Court.
The revocation means D&L must cease its injection-well operations, plus its storage at the Salt Springs Road site and brine hauling. The move drew praise from environmental groups and the oil and gas industry, though at least one Democratic lawmaker remains concerned about the dumping and its subsequent disclosure to the public.
Rep. Bob Hagan of Youngstown, D-58th, has urged criminal charges against the company's owner, and he's introduced legislation that would require greater disclosure of the chemicals used in hydraulic fracturing and allow local governments to enact their own standards and safety requirements for drilling.
Kasich said Wednesday that he was not involved in the administrative actions against D&L Energy and Hardrock and that he did not make recommendations about penalties.
Kasich said there was some question as to whether the state had authority to permanently revoke a company's license for egregious illegal dumping.
"If somebody went and did something bad and they cleaned it up, they'd get a permit back automatically," Kasich said. "My deal is, if you're a bad actor a number of times, we probably ought to be able to yank your permit or deny you one."
Kasich said the state agencies involved are reviewing those legal issues.
Cleanup efforts near 2761 Salt Springs Road have hit a snag as contractors there discovered they needed better access to clean out drainage pipes.
Though a minor setback, additional work to access portions of the storm drain required excavation, meaning another week or two could be added to the cleanup time, said Chuck Shasho, Youngstown's deputy director of public works.
As workers were trying to jet wash the affected areas of the storm-sewer system, they discovered that hardened mud and other debris were obstructing the process. D&L Energy and its subcontractors requested an opening be made in the system so they could enter it safely for cleaning.
"There weren't enough manholes nearby," Shasho said. "The bottom line is they need to physically remove parts of the storm sewer to create more ventilation and access points."
The city will incur no costs, and D&L will pay to either install new manholes or replace segments of the system it removes.
The U.S. EPA announced late last week that regulators and workers at the site had collected 40,000 gallons of the substance and revised that figure Monday to 100,000 gallons.
Also Monday, an official with the OEPA's Division of Emergency and Remedial Response told Mayor Charles Sammarone and other city officials that Lupo had admitted to dumping drilling waste six times since September.
Early estimates put the total waste dumped during that period at 252,000 gallons of oil and brine water, based on what Lupo told regulators.
He said that two storage tanks, capable of holding 21,000 gallons each of drilling waste were dumped six times.
Now, regulators are disputing that claim saying its too early to tell how much was dumped.
"It's impossible to move those tanks when they're completely full," said Bethany McCorkle, chief of communications for the Ohio Department of Natural Resources. "Those are temporary storage tanks located at production wells. We can't really quantify what was being put into Ohio waters."
McCorkle said smaller brine-hauling trucks collect the drilling waste at production wells and transport it. Those trucks can typically hold up to 8,000 gallons.
Chris Abbruzzese, deputy director of communications for the OEPA, said the estimates amount to speculation at this point.
He added that exactly how much waste was dumped and how many times it was dumped is the primary focus of an ongoing criminal investigation.