Mangapora scores 28 points in Canfield victory
---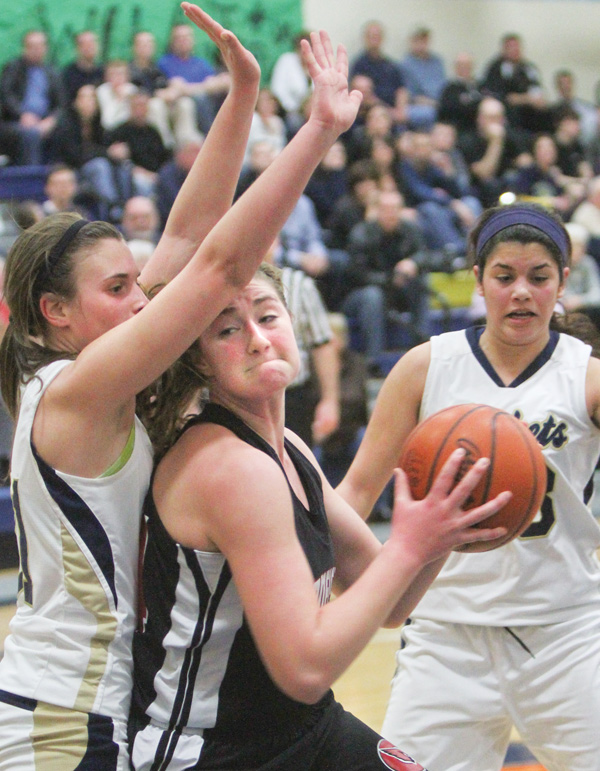 Photo
Lowellville's Rachel Durbin (31) defends Canfield's Sabrina Mangapora (44) during the first quarter of their basketball game Wednesday at Lowellville HIgh School. Mangapora scored 28 points for the Cardinals, who routed the Rockets, 67-25.
Canfield wins; Lowellville's Solak gets 1,000
By Joe Catullo Jr.
LOWELLVILLE
After 20 years of friendship, Canfield coach Pat Pavlansky and Lowellville coach Tony Matisi were forced to become rivals for an hour Wednesday night in the teams' season finales.
"It wasn't just the last game of the season for us," Pavlansky said.
Pavlansky got the upper hand with a 67-25 victory, paying back his friend after losing at home last year by a double-digit margin.
The Cardinals (21-1) handed the Rockets (19-3) their third home loss in the past five seasons, and Matisi couldn't be more appreciative.
"He's the only one that stepped up to play us," Matisi said. "Division II isn't going to come down at Division IV because it's a no-win situation for them, and he's the only one that stepped up. A lot of schools wouldn't play us."
Pavlansky was happy to see his team shoot 44.8 percent from the field, stating Monday's 50-33 victory over Warren Harding was a dry spell.
"Coach, we're going to shoot the ball tonight," said Canfield assistant coach Matt Reel before the game.
"All right; sounds good to me," Pavlansky said back to Reel.
Sabrina Mangapora led all players with 28 points and 10 rebounds. She finished Monday with 14 points, and Pavlansky said her focus in practice Tuesday got her shooting form back.
"I told coach Matisi [before the game] 'Coach, Sabrina went 4 of 16 Monday night.' She's ready to go tonight," Pavlansky said.
The Cardinals are the No. 1 seed in the Division II sectional-district at Austintown Fitch. The Rockets are also the first seed when they begin the Division IV sectional-district at South Range. Nobody thought Wednesday night's game would be a blowout.
"We came in thinking that it was going to be a close game and play hard defense because last year was a close call," Paige Baker said. "This year was a lot different, and we're just happy about it."
One bright spot for Lowellville was Kaye Solak's layup with one minute remaining in the third quarter, giving her 1,000 career points. Matisi said it took "a lot of the stings out."
"It really did mean a lot to me because I worked really hard for it, and because I pretty much missed my whole sophomore year," Solak said. "It was actually really nice to get it with them [Canfield] because they're all really nice girls, and they've all been my friends since we were younger."
The Rockets took a step back on Wednesday after many successful nights, including a 55-1 mark when Emily Carlson, Ashley Moore and Taylor Hvisdak graced the court.
"We've got the horses, the big, strong kids," Matisi said. "We don't have any finesse that we had last year. We don't have the drivers for those horses this year. Last year we had the jockeys that could get on and drive us, and it showed tonight skill-wise."
Even though Lowellville lost their "jockeys," the Rockets are still 16 games above .500. Matisi said the reason is heart.
"These kids have a chip on their shoulders because after we lost three 1,000-point scorers last year, nobody really gave them a chance to be where they're at," he said.