Howland 2nd-grader's food/funds drive making difference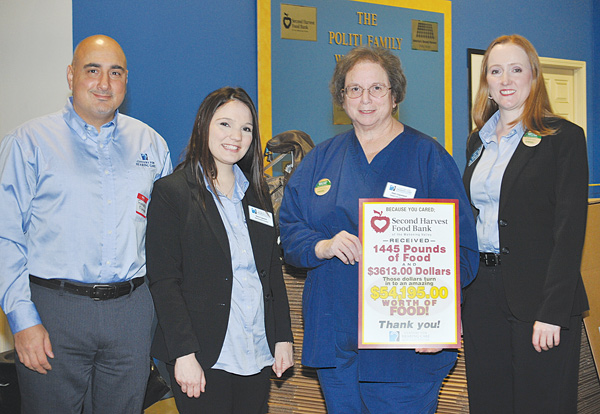 ---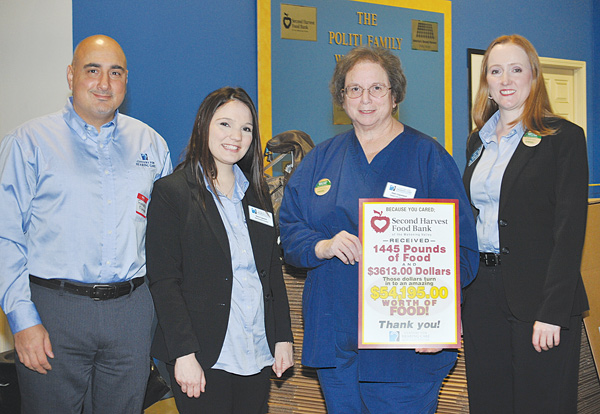 Photo
From left, Centers for Hearing Care's Fortunato Figliano, Gina Capone, Deb Copeland and Dr. Susan Herr represent the seven office locations that are participating in the 2013 Harvest for Hunger funds and food campaign. Copeland holds a poster that says the business raised $3,613 and collected 1,445 pounds of food in their 2012 effort for Harvest for Hunger.
YOUNGSTOWN
Watching the Food Network on television while on vacation inspired Braxton Hollis, a second-grader at Howland Springs Elementary School, to find a way to help feed hungry people.
Two years later, Braxton, 8, is providing inspiration for Second Harvest Food Bank of the Mahoning Valley's 22nd annual Harvest for Hunger, which began Wednesday.
Harvest for Hunger is a monthlong food and funds drive in March to help stock food-bank shelves for the summer months when donations taper off.
"If you think one person can't make a difference, think of Braxton," said Michael Iberis, Second Harvest executive director.
Braxton's first plan was to turn the family garage into a place to feed hungry people. But his parents, Courtnie and Matthew Hollis, who also have a daughter, Mallorie, told Braxton about Harvest for Hunger, and he went to work.
With the help of friends and family, especially his grandmother, Laura Pregibon of Fowler, they delivered shopping bags to people and collected 580 pounds of food for Harvest for Hunger in March 2011.
In 2012, he delivered 840 pounds of food, jammed into the family van, to Second Harvest. With the money donated, he goes to the grocery store and buys more nonperishable food.
All he wanted to do was "help people who couldn't afford to buy food at the store like we can. It makes me feel proud and good," said Braxton, whom Iberis described as the "newest food-bank friend."
He also applauded and thanked the long-standing Second Harvest and Harvest for Hunger campaign supporters and sponsors, including Giant Eagle, 21 WFMJ-TV and WBCB, The Vindicator, Cumulus Broadcasting and Sparkle Markets.
Jeff Mitchell, Giant Eagle regional manager, said stores would again offer shoppers the opportunity to add $1, $5 or $10 to their bills to benefit the food bank and a bin to collect nonperishable items also will be available, both beginning Sunday and ending March 31. He said the program raised $63,000 in 2012 and that this year's goal is $85,000.
Iberis thanked WFMJ, The Vindicator and The Tribune-Chronicle of Warren for getting the word out about the campaign.
The TV station will run commercials and tell stories about people and organizations doing food and fund drives. The Vindicator will have a full-page insert in Sunday's paper asking for donations, an effort that raised $2,000 last year, said Nena Perkins, promotions manager.
To date, 50 individuals and organizations have signed up to run campaigns in March.
One of the organizations, Centers for Hearing Care owned by Fortunato Figliano and his wife, Dr. Sheryl Figliano, again is running a competition between its six local offices and a new office in Cleveland to see which can collect the most money and food.
Last year's competition netted $3,613 and 1,445 pounds of food, which couldn't have been accomplished "without the help of our clients," said Dr. Susan L. Herr, an audiologist in the firm's Liberty office.
The 2012 Harvest for Hunger raised more than $160,000 and collected 41,000 pounds of food, and the need continues to grow, Iberis said.
More than 15,000 people a week depend on what we do, said Becky Miller, Second Harvest manager of resource development.
People and organizations interested in conducting a Harvest for Hunger food or funds drive can contact Rita Brady at 330-792-5522, ext. 11, or visit www.mahoningvalleysecondharvest.org to download the registration form.
All funds raised and food collected stays in Columbiana, Mahoning and Trumbull counties. The food bank distributed 9 million pounds of food to 153 hunger-relief organizations in the tri-county area in 2012, Iberis said.