Alvarez: Big Ten won't schedule FCS teams any longer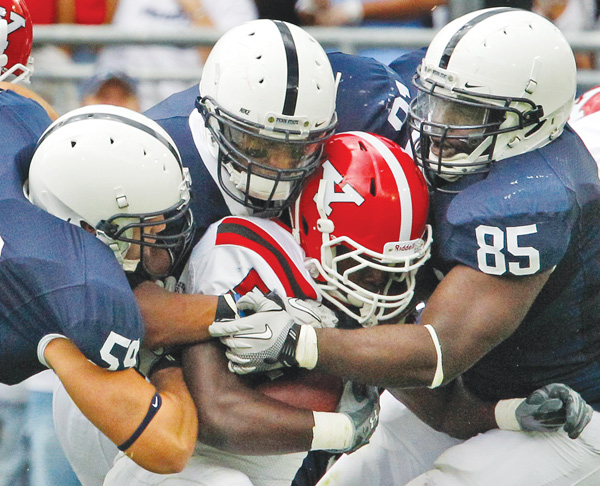 ---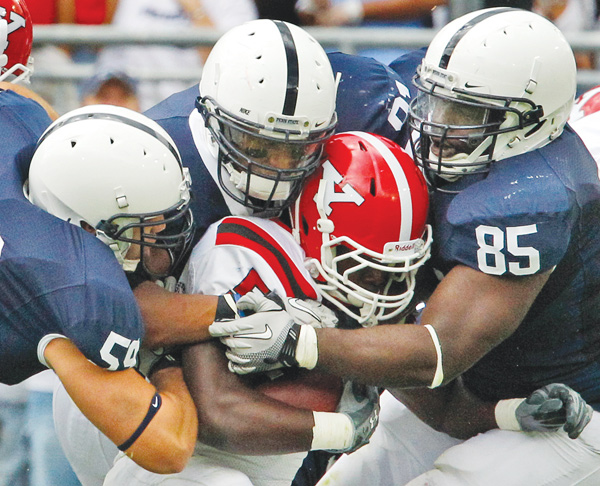 Photo
Youngstown State running back Adaris Bellamy is swarmed by Penn State defenders. Late Tuesday, Wisconsin athletic director Barry Alvarez said on the radio that the Big Ten will stop scheduling games against FCS teams, a move that could cost YSU hundreds of thousands of dollars a year.
Wisconsin's Barry Alvarez said the league will stop scheduling FCS teams
By Joe Scalzo
YOUNGSTOWN
The Big Ten could soon put a big dent in Youngstown State's bottom line.
Speaking on WIBA-AM radio in Madison, Wis., Tuesday night, Wisconsin athletic director Barry Alvarez said the league will no longer schedule Football Championship Subdivision teams, a decision that could cost the Penguins hundreds of thousands of dollars each year.
"The non-conference schedule in our league is ridiculous," Alvarez said. "It's not very appealing. So we've made an agreement that our future games will all be Division I schools. It will not be FCS schools."
YSU has played five games against Big Ten teams since 2006, earning an average of $540,000 in those games.
The Penguins will play at Michigan State in 2013 and Illinois in 2014 and were expected to play Ohio State in 2015, although nothing official has been released.
The Big Ten did not confirm the report on Wednesday. Spokesman Scott Chipman said the league's coaches and athletic directors are preparing a proposal for the Council of Presidents/Chancellors to consider in June, the Associated Press reported.
The move could allow the Big Ten to expand its conference schedule to nine or 10 games when Maryland and Rutgers join the league in 2014.
It would also boost the conference's strength of schedule, a key factor in choosing teams for the upcoming four-team playoff.
A YSU spokesman said the school will not comment until the Big Ten confirms the decision.
The Penguins have never beaten a Big Ten school but did earn their first win over a BCS conference team last fall when they defeated Pitt of the Big East. (Pitt will join the ACC after this school year.) Also, Missouri Valley member North Dakota State defeated Minnesota in 2011 and the Big Ten suffered maybe the most infamous FCS loss in history in 2007 when Michigan fell to Appalachian State.
Former YSU tackle Andrew Radakovich said the move is "probably smart."
"There's a lot of talent rising up in the FCS and over the years those teams have gotten better so there's a bigger chance of getting beat," said Radakovich, a four-year starter who graduated with an accounting degree in December. "And it makes sense with the playoffs and the strength of schedule.
"Ohio State always plays like six small schools and they're happy with their schedule, so maybe they'll start playing some talented teams out of conference."
Radakovich, who started his college career at Penn State before transferring to YSU, said FCS teams will suffer.
"You don't get that many chances at an FCS school to play in that big of a stadium or that big of a crowd," he said. "Teams didn't always sell out when they played us but it was still a bigger crowd than we've ever seen, so it was always an exciting time.
"We were definitely a bigger underdog but it's nice to thrive in those games, especially after what we did to Pitt this year."
Radakovich would like to see YSU schedule more games against teams from the Mid-American Conference or Conference USA.
"I personally think we would put it to a lot of them," he said. "But I don't think that will happen. They're scared of losing to quote-unquote inferior programs. But I'd like to see them try to compete in our league."