2 companies interested in Wean site downtown
---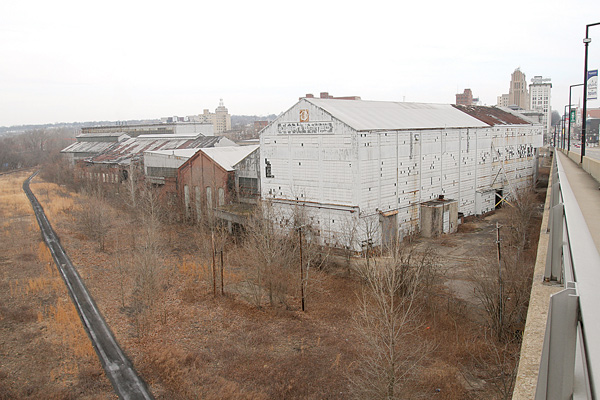 Photo
Youngstown officials are deciding what to do with the former Wean United building. The city is negotiating a sale of the building with two companies. If those sales fail, a cleanup and demolition of half the structure will occur, officials said.
YOUNGSTOWN
The fate of the vacant Wean United Building, one of downtown's biggest eyesores, will be decided in about three months.
The city is in negotiations with two companies to occupy the building off West Front Street for industrial use, said city Finance Director David Bozanich and T. Sharon Woodberry, economic development director.
The two declined to disclose the names of the businesses because of ongoing negotiations and because a deal hasn't been finalized.
Bozanich described the two companies as light industrial while Woodberry called them heavy industrial.
A decision on what will be done with the former Wean facility should be made around May, Woodberry said.
The city was awarded a $1,775,418 state grant about a year ago for an environmental cleanup of the 10.43-acre site and demolition of about half of the vacant 300,000-square-foot industrial building. The city agreed also to use $591,806 of its own money toward the work.
The city had a tentative agreement in March 2012 with William Marsteller, who owns the site, calling for him to demolish about half of the building and sell the metal for scrap.
The city was going to use the space for additional parking for those attending events at the Covelli Centre.
But that project was delayed at the city's request when two businesses expressed interest in the industrial site, Bozanich and Woodberry said.
"The original plan was to demo, but we've since reconsidered the decision due to the possibility of reuse with significant investment," Bozanich said. "Projects like this are tough to come by."
With those discussions ongoing, the city received an extension to start work at the former Wean property, Woodberry said.
The original start date was Dec. 30, 2012, but was moved to Dec. 30, 2013. The completion date remains Dec. 30, 2014, she said.
If a company moves to this site, the work is likely an 18-month project so the city wants a decision by May, Woodberry said.
A major part of any project at that location is a significant renovation, Woodberry and Bozanich said.
"We'd mandate a complete renovation of the building," Bozanich said. "We're not in disagreement that it's an eyesore now."
The building "would not be in the condition it's in now" if either company buys the property, Woodberry said. "They're committed to renovating the structure so it's visually pleasing. We're not going to allow the structure to remain in the condition it's in now."
And if neither project works the demolition plans would be carried out, Bozanich said.
Wean United closed the plant in 1989. The property has been vacant for more than a year.