Raiders' pressure flusters Spartans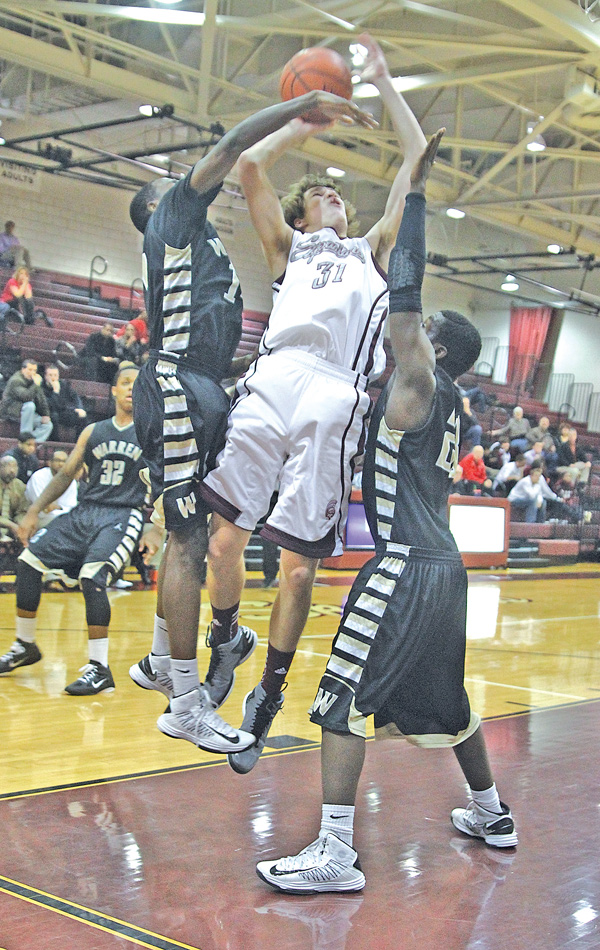 ---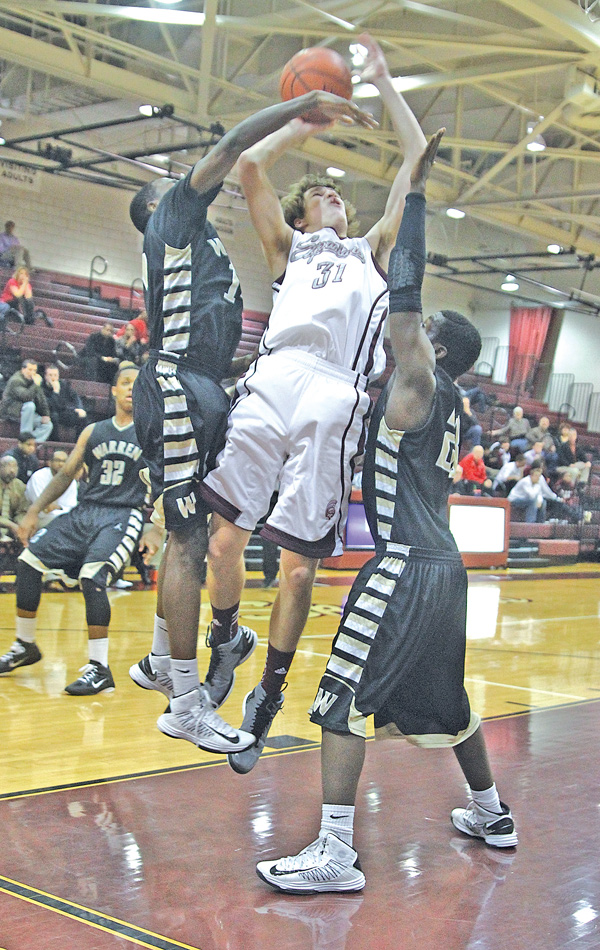 Photo
Boardman's Austin Downie (31) tries to shoot over Warren Harding's King Garner (14) and Greg Jackson (23) during a game Tuesday night. Harding won, 41-27.
By Joe Catullo Jr.
BOARDMAN
After being an assistant at Boardman from 2004-08, Warren Harding coach Andy Vlajkovich felt at home once again Tuesday night.
The Raiders' fans made sure of it, cheering and screaming louder than the Spartans' faithful.
"The one thing about Warren Harding is the fans will travel," Vlajkovich said. "We have some loyal diehards, and that's why it's kind of a special place."
His basketball team felt the same Tuesday night during the 41-27 victory. Mik'quan Dorsey said it was like having an extra player on the court.
"We got a great fan base," Dorsey said. "We couldn't ask for much more. It's always like [having] a sixth person."
On the flip side, Boardman coach Pat Birch said bringing more fans to his team's home games is one of the goals.
"Part of that is we need to win some more basketball games," he said. "If you win more games, more fans will come. That's something we're building for the future."
The Spartans (3-16) shot 29.4 percent from the field, missed all 10 of their 3-point attempts and committed 22 turnovers.
Boardman also never scored more than eight points in a quarter, but they trailed by only 10 in the fourth quarter. The Raiders (11-8) faced the same dilemma offensively, shooting 34.8 percent from the field and committing 18 turnovers. "I thought we had some great looks," Vlajkovich said. "I can't get upset, but sometimes when you see me get upset, I'm upset they didn't go in. I'm not upset that they took them."
The biggest difference was their full-court defensive pressure, which never let up since the opening tipoff.
"They sped us up, made us turn the ball over, and I think that was a part of their game plan," Birch said. "They did that, and we weren't able to limit the turnovers. I think that's the story of the basketball game."
Another aspect was offensive rebounding. The Raiders collected 13 while Boardman grabbed 23 overall. After the first half, Harding had as many offensive rebounds as the Spartans collected overall with nine.
"The big thing tonight is I loved our effort," Vlajkovich said. "I liked our chemistry, and I hated our fundamentals. I thought our kids played really hard, and I thought we played together, but we weren't as crisp as we need to be."
The Spartans matched the Raiders' defensive effort, though Boardman played a 2-3 zone. In doing so, they forced their opponents into 19 3-point attempts and making five of them while closing the lanes.
"The zone kind of temps you into doing that," Vlajkovich said. "My big thing is we'll get them. At the same time, I didn't think they were bad 3s. At some point, if those go in, we're feeling really good about ourselves."
Tuesday was a non-conference showdown, but Dorsey said it was an important game.
"It means a lot because there's a possibility we might see them in the tournament," he said.