Kravitz Jewish Deli Celebrates Mardi Gras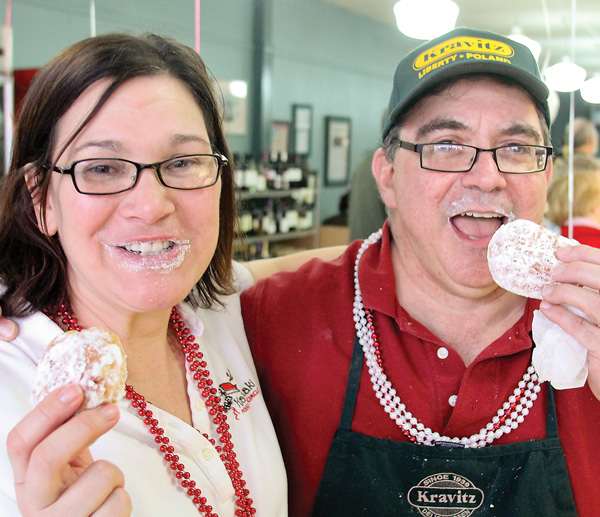 ---
Fat Tuesday In Youngstown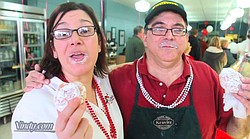 Video
Only in Youngstown can a Jewish Deli celebrate Fat Tuesday with a tasty Polish pastry.

Photo
Aundrea Cika, Polish Youngstown director, and Jack Kravitz, owner of Kravitz Deli in Liberty, enjoy a paczki on Mardi Gras. The Fat Tuesday event was marked by with a Polish celebration at the traditional Jewish eatery.
By Danny Restivo
LIBERTY
Kravitz Deli on Belmont Avenue is best known for its traditional Jewish cuisine, but on Tuesday, it was the site of a Polish celebration.
"Youngstown is a diverse place, and we're just doing a little fusion to help out our Polish friends today," said Jack Kravitz, deli owner.
The restaurant had its first ever paczki day as part of its Mardi Gras celebration. A paczki is a traditional donut-like pastry filled with cream that is often served on the final day before lent, a Christian observance that includes 40 days of sacrifice.
Tuesday's event was orchestrated by Kravtiz and Aundrea Cika, director of Polish Youngstown. Both said the Jewish community and the Polish community share much in common, including cuisine, mannerisms and a love for food.
"I thought it would be a good idea for our two communities to spend a little time together," said Cika.
The deli opened at 6 a.m. with nearly 300 boxes of paczki's awaiting purchase. By 9:30 a.m., customers were waiting in line for the remaining pastries. Other patrons sat at booths and ate pierogies, while red and white balloons, the Polish national colors, floated along the ceiling. Some even danced to traditional Polish polka music playing in the deli's dining area.
Rosemary Walker, of Niles, and Lynda Welke, of Warren, said they both share some Polish heritage and try to make it to all the Youngstown Polish events.
"It's our first time here at Kravitz's," said Welke. "But we like to get involved whenever we can."
While Welke was unsure of what she would give up during the Lenten fast, Walker had already made up her mind.
"No meat on Wednesdays or Fridays," she said.
Though Tuesday wasn't a day Kravitz grew up celebrating, he said he's learned a lot because his wife is Polish. He said the deli will also serve haddock fish dinners with pierogies and haluskiat their Liberty and Poland locations on Fridays during Lent.
Along with the Mardis Gras celebrations, Kravitz said he also has St. Patrick day celebrations and Oktoberfest celebrations.
"Living in Youngstown means celebrating everybody," he said.