Canfield tops Liberty for Muckleroy's 100th win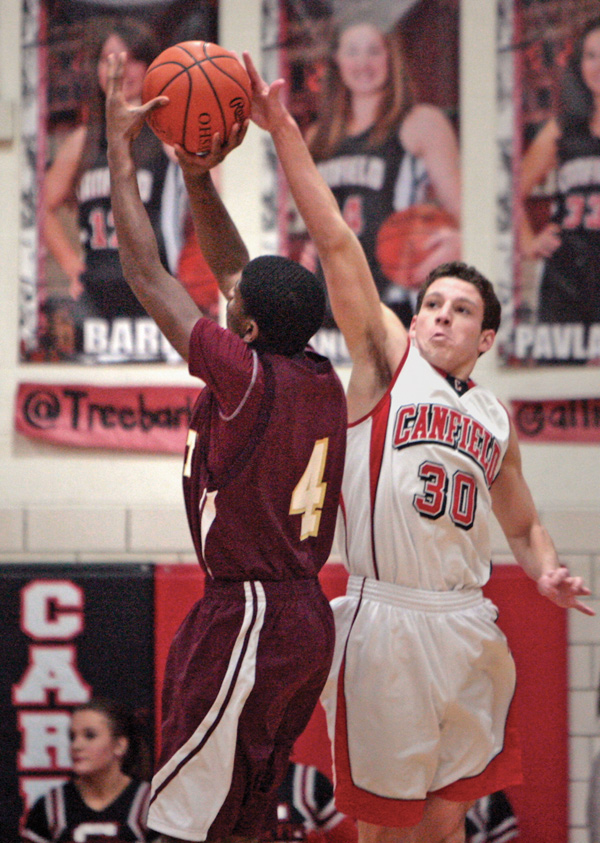 ---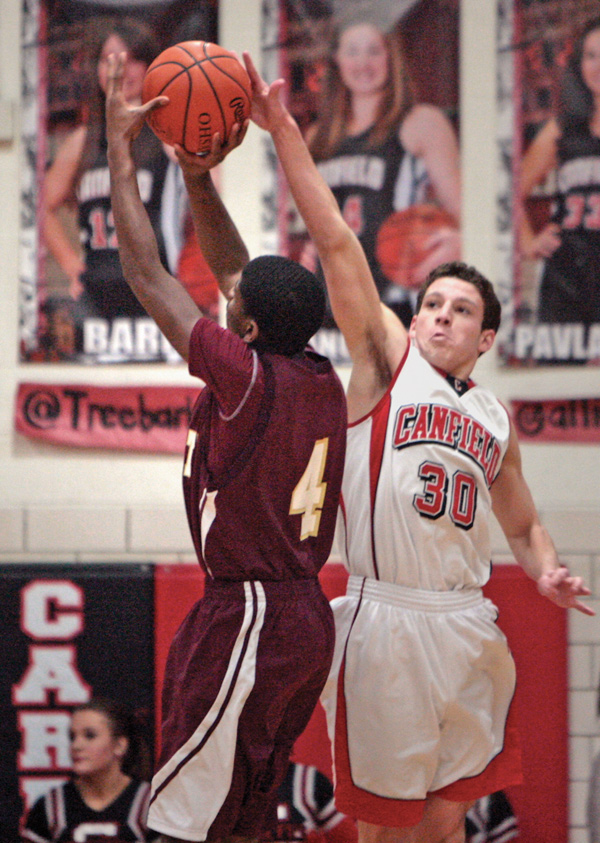 Photo
Canfield's Marco DeLorenzo blocks a shot by Liberty's Asim Pleas Jr. during the first quarter of Tuesday's game at Canfield High School.
By Ryan Buck
CANFIELD
The ideal cure for a painful loss is, obviously, a bounce-back win.
Canfield's run at an outright All-American Conference, American Division title was derailed in last Friday's triple-overtime loss to archrival Poland. However, the show must go on.
Behind 21 points from Andrew Midgley, the Cardinals survived 23 points from Asim Pleas and outlasted Liberty, 61-57, on Tuesday night.
"Psychologically, you have to bounce back," said Canfield coach Todd Muckleroy, who reached 100 career wins with the victory. "We knew it would be a grind against Liberty. They're an athletic team and we've had trouble with athleticism."
Point guard Cole Pryjma's steal and fast-break three-point play gave the Cardinals a 45-43 advantage in the opening minute of the fourth quarter. On their next possession, Midgley knocked down one of his four 3-pointers for a five point lead.
Liberty, as it had done all evening, had a quick response. After forward D.J. Hight knocked down a pair of free throws, Pleas drove the lane for a layup and converted the ensuing foul shot to pull Liberty to within one with just over 4 minutes remaining.
The Leopards slashed inside almost at will in erasing a first-quarter deficit and carrying the lead into the fourth quarter.
"As we calmed down and spread out a little, then we got to the hoop repeatedly, Liberty coach Dan Bubon said. "Asim is hard to stay in front of. He's long and he can shoot over you when he gets in the lane and he kept getting to the hoop like crazy."
Canfield guard Marco DeLorenzo then found Midgley inside for an easy basket and a 52-50 lead with 2:55 to go.
Hight's steal and layup tied the game at 57 with 1:11 left in the game after both teams traded baskets.
Where errant shots and turnovers cost the Cardinals late against Poland, they thrived in this contest.
After hitting his first free throw, Pryjma's second bounced out of bounds off the outstretched arms of his opponents, giving Canfield the ball back.
Crisp, time- erasing ball movement led to Brady Clark's drive and foul, resulting in one more made free throw for a 59-57 lead with 22 seconds left.
Canfield survived a missed one-handed baby hook from Hight with eight seconds left as the shot rattled off the front iron into the extended hands of Cardinals forward Justin Vrabel.
"We learned from Friday that discipline at the end definitely helps you win and that's what we did there," Midgley said.
Vrabel calmly sank both free throws to seal the win.
Bubon dwelled on another missed opportunity for the Leopards, whose prowess inside with Pleas and Hight was negated by eight 3-pointers from Canfield.
"This is six games we've lost whether on the last shot or in the last 20 seconds," Bubon said. "That's the difference between nine wins and who knows how many?"