Obama names Youngstown as model for new tech development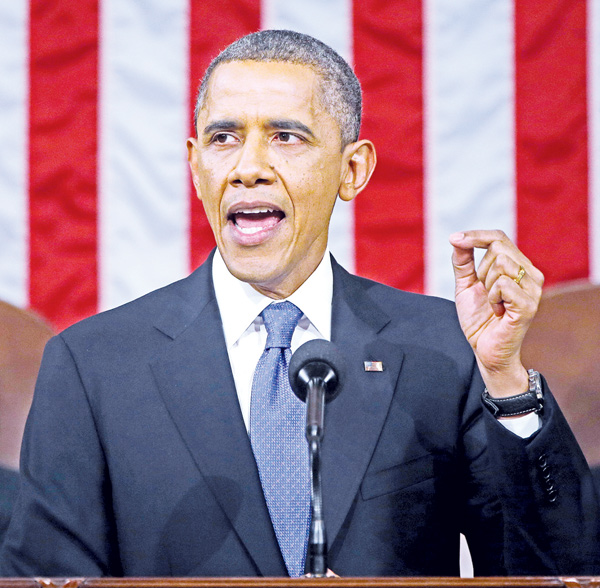 ---
State of the Union: Youngstown Manufacturing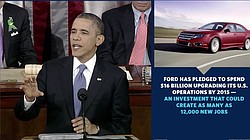 Video
During the State of the Union address, the president discusses the recent additive manufacturing initiative in downtown Youngstown.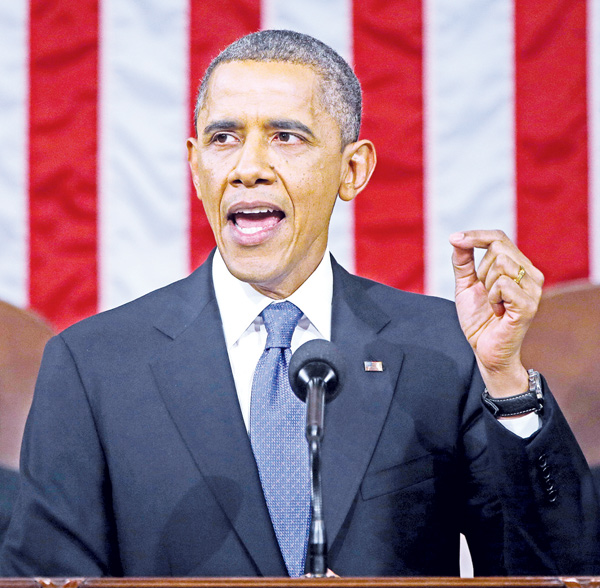 Photo
President Barack Obama gestures as he gives his State of the Union address Tuesday.
President names Youngstown as model in State of the Union
YOUNGSTOWN
President Barack Obama used Youngstown and its $70 million advanced manufacturing hub as a model for the development and growth of new technology in his State of the Union address.
"Last year, we created our first manufacturing innovation institute in Youngstown, Ohio," Obama, a Democrat, said in Tuesday's speech to the nation. "A once-shuttered warehouse is now a state-of-the art lab where new workers are mastering the 3D printing that has the potential to revolutionize the way we make almost everything. There's no reason this can't happen in other towns."
Obama said he planned the "launch of three more of these manufacturing hubs, where businesses will partner with the Departments of Defense and Energy to turn regions left behind by globalization into global centers of high-tech jobs."
Obama also asked Congress to help "create a network of 15 of these hubs and guarantee that the next revolution in manufacturing is made in America."
It was the first city mentioned in Obama's speech.
A former furniture warehouse on West Boardman Street in Youngstown was converted a few months ago to create the National Additive Manufacturing Innovation Institute, a facility focused on boosting production of additive manufacturing through research and development.
The technology utilizes 3-D software that draws up a detailed blueprint, which is then transmitted to a specialized machine that uses plastics, metals or resins to print a product layer-by-layer, cutting out costly material and labor in the process.
The U.S. Department of Defense provided a $30 million grant with $40 million coming from more than 60 private and public entities in Ohio, Pennsylvania and West Virginia. The National Center for Defense Manufacturing and Machining estimates that, in the long-run, 7,200 regional jobs will be created because of the new hub.
While listening to the speech, U.S. Rep. Tim Ryan of Niles, D-13th, was shown on national television smiling and pointing when Youngstown was mentioned.
"Over the past three years, the manufacturing sector has added nearly 50,000 jobs, and I am certain that number will continue to grow with the president's plan," Ryan said. "In Northeastern Ohio, we are already making the investments necessary for a 21st century economy as the Tech Belt and the [NAMII] in Youngstown create new wealth and new jobs."
U.S. Rep. David Joyce of Russell, R-14th, whose district includes northern Trumbull County, said, "I'm pleased the president used his address to tell the rest of the country about the exciting, innovative work the people of Youngstown, Ohio, are doing at their manufacturing innovation institute."
Youngstown Mayor Charles Sammarone said Obama's mention of Youngstown "is great," and he was proud the president pointed to the city.
The president's comment about Youngstown created a buzz on Twitter with "Youngstown" trending on the popular social-media site with numerous tweets from people excited about the mention.
U.S. Sen. Sherrod Brown, a Democrat, tweeted: "Youngstown's NAMII could be the model for spurring America's manufacturing future," and "This network — modeled on Youngstown — would help manufacturers to improve innovation and create new jobs."
Brown is drafting legislation to create a national network program based on NAMII in Youngstown.