Rocket battle: Lowellville takes down Maplewood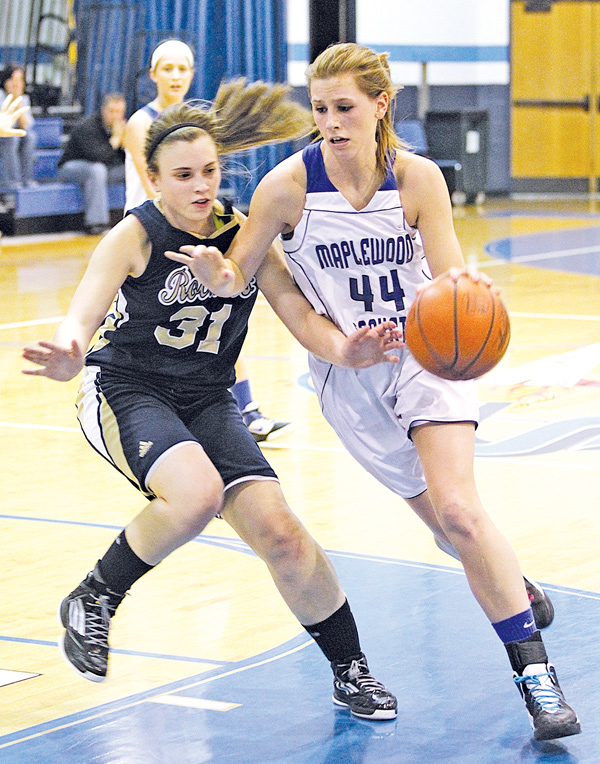 ---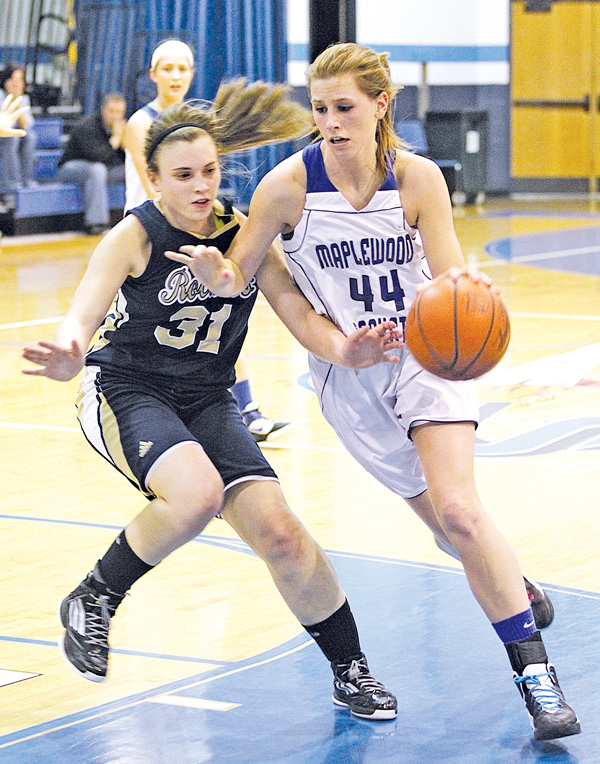 Photo
Maplewood's Brooke Dawson (44) tries to drive on Lowellville's Rachel Durbin (31) during a game Monday night. Dawson scored 14 points, but Lowellville came from behind for a 59-50 victory.
MECCA
Lowellville's girls basketball coach Tony Matisi uttered a half-joke, half-truth before Monday's game at Maplewood High School.
"I've got a tip for you: The Rockets are going to win," he said.
But Matisi couldn't answer which Rockets until the final seconds, when the Lowellville Rockets came from behind to finish off the Maplewood Rockets, 59-50, in a clash of teams which entered with a combined record of 35-5.
It was one "meck-of-a" game.
"We were very fortunate to be down by five at the half [after playing terrible defense]," Matisi said. "I thought that if anything good came out of that [the first half] it's that we were down by five."
Lowellville (19-2) trailed from the outset, until out-scoring Maplewood (17-4) in the fourth quarter, 27-11.
Kaye Solak's basket on a putback following Allison Wereb's steal and missed layup put Lowellville up for the first time at 49-47 with 2:04 remaining after Courtney Conklin's steal and layup tied the score for the first time at 45.
"We picked up our pressure in the second half, probably because we wanted it a little more," said Solak, a senior. "We wanted to prove [to our coach] that we could win a game when we wanted to."
Not long after Solak's go-ahead points, Maplewood's Allison Bell scored her 1,000th point when she went to the foul line with 40.5 seconds left. The senior's big moment came on the first of two free throw attempts. At that time, a ball presentation was made before Bell returned to the line to make her second free throw to pull Maplewood within two, 53-50.
"It felt awesome to know all my hard work and stuff paid off and I couldn't have done it without my teammates supporting me by looking [to give me the ball], as well as my family, my friends and coaches and, of course, God, who blessed me with this gift and helped me make it through," said Bell, as she held the ball marking the occasion.
One of just two missed free throws of her nine attempts came at 1:32.
"It was hard missing that one free throw [which left her at 999], but I knew I had to pull through and try hard again [for the 1,000th] because this was our last home game, which is when I wanted to do it."
Bell had 20 points in Monday's loss, while Solak, who finished with a game-high 23 points, needs seven more points to reach 1,000.
Maplewood coach Mark Yoder assessed the game between the teams, both of which are No. 1 seeds at their respective upcoming sectional tournaments — South Range for Lowellville and Rootstown for Maplewood.
"The fourth quarter, they definitely did the things they needed to do in the way of putting pressure [on us] on defense and creating some key turnovers that translated into easy baskets for them, plus they hit the offensive boards harder. I think they had more offensive rebounds in the fourth quarter than in the first three quarters combined."
Yoder said that after Lowellville's spurt to go ahead, his Rockets didn't capitalize with their shots.