Christ Our Savior Parish hosts Mardi Gras
---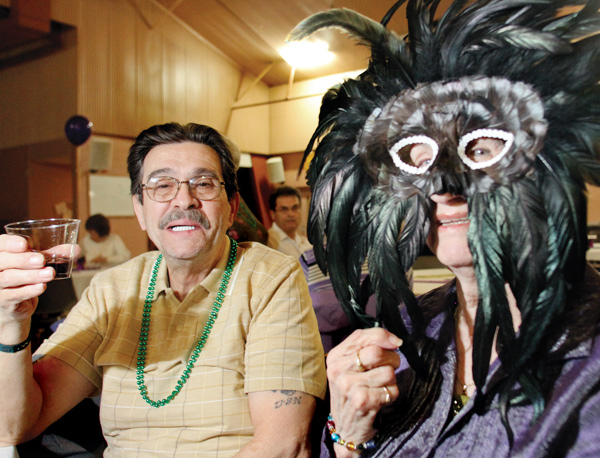 Photo
Mason Balestra and Flo Leonelli, both of Youngstown, enjoy the Mardi Gras party at Christ Our Savior Parish in Struthers. The parish hosted the event Monday for some 130 members.
Parishioners mix, mingle at annual appreciation event
By LINDA M. LINONIS
struthers
Mardi Gras celebrates the "feast before the fast." It's the party before the reflection and denial of Lent that begins this week on Ash Wednesday.
At Christ Our Savior Parish, Mardi Gras revolves around appreciation for participation in ministries. The parish hosted a Mardi Gras event Monday for some 130 members.
The Rev. Bob Bonnot, pastor since 2007, initiated the event in 2008. "It's about mixing and mingling," he said of the Mardi Gras party, with emphasis on the appreciation.
Christ Our Savior Parish is the merger of St. Nicholas Church, 764 Fifth St., and Holy Trinity Church, 250 N. Bridge St. There are some 1,800 families with about 4,200 people.
Father Bonnot, who said his ethnic background is French, said a Mardi Gras party was only natural. He's visited New Orleans several times but never at Mardi Gras. So he thought bringing Mardi Gras to the parish was a good idea.
Father Bonnot said he gets into the spirit of the celebration by wearing his "king's hat."
Christ Our Savior Great Hall was decorated with a festive flair. Finger foods and pastries were served.
The pastor said it would be difficult for the parish to function without members participating in and supporting a multitude of ministries. "This is a thank-you to parishioners ... a way to express how much they are appreciated as they serve the parish and other people."
Father Bonnot credited the liturgical group with keeping Masses and other services running smoothly. He cited lectors, Eucharistic ministers, sacristans, adult servers and ushers as all doing their part.
"Home visitors take the Eucharist to the homebound. It's invaluable," he said.
The Altar Society, Holy Name Society and choir contribute their talents as do Confraternity of Christian Doctrine teachers.
Festival workers and chairmen of fundraisers help make an important financial contribution to the parish. "The pirogi workers are very important," he said.
The Muscle Club, Father Bonnot said, involves "handy men" of the church who address maintenance and grounds chores. And, he noted, Moms and Dads Club involved in the school and parish make the important difference.
He noted the church office staff, though paid positions, go "over and above" their jobs.
"People are in various ministries and bring organization and leadership skills," he said. "The parish would certainly be a less vibrant and active place without the ministries."
Father Bonnot said parishioners fill out a census sheet, noting what skills they could contribute. "In the spirit of Christ, they are willing to share," he said.