Youngstown bishop praises legacy of Pope Benedict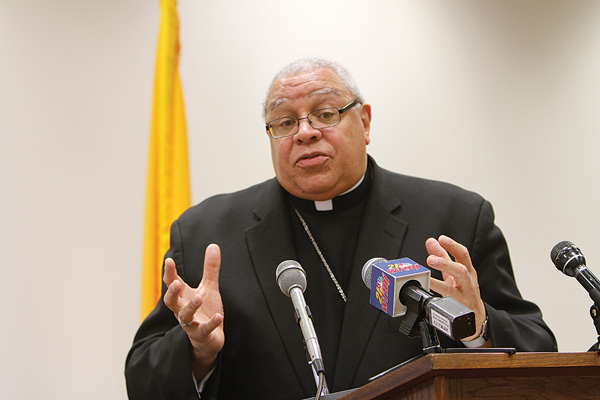 ---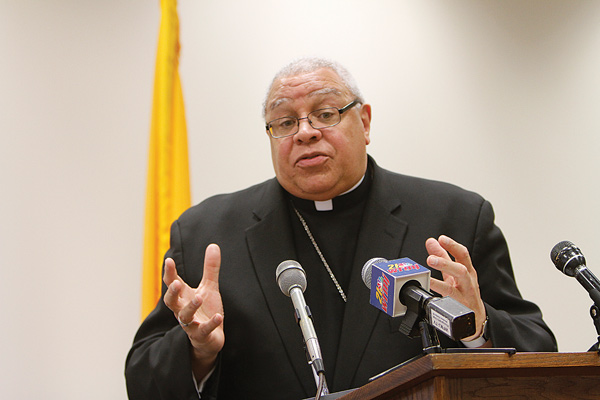 Photo
Bishop George V. Murry of the Diocese of Youngstown addresses a news conference Monday afternoon about the resignation of Pope Benedict XVI. The bishop also presented ideas on qualities that the next leader of the world's 1 billion Catholics should possess.
By LINDA M. LINONIS | linonis@vindy.com
The bishop described the 85-year-old pope as "a courageous voice for the rights of the poor, a consistent defender of human life and a champion of religious liberty for people of all faiths."
During a news conference in the diocesan conference room, the bishop gave a statement and then fielded questions.
Bishop Murry offered ideas on qualities a potential pope should have in addition to a theological background. They are:
Ability to appreciate the needs of the church and respond to them; understanding of the communication revolution and skills to use modern technology; empathy with young people; and appreciation of the diversity of cultures within the church.
The new pope, the bishop said, also must be someone who will directly confront and deal with sexual abuse by clerics. "He must be willing to take concrete steps to eliminate the problem and help the victims." When Pope Benedict visited Washington, D.C., and New York in 2008, he met with President George W. Bush, U.S. bishops and victims of abuse by clergy.
The bishop most recently saw the pope in February 2011 with a group of Ohio bishops. The pope saw a cardinal with an emergency, Bishop Murry said, then the Ohio bishops followed by another cardinal. The bishop said they could see the pope was getting fatigued.
Just before Bishop Murry came to the Youngstown diocese, he also had an audience with the pope in 2007. "We talked about the challenges here," the bishop said.
Bishop Murry said he credited the pope with having the courage to acknowledge the toll that aging is having on him. "He is giving an example of how to deal with infirmity and suffering." Though the pope has traveled extensively, his health is probably putting an end to trips.
In modern times, Pope Benedict's decision to resign is unprecedented. Though Pope John Paul II talked about retirement, he didn't act on it. Pope Celestine V (1215-1296) was elected in the last non-conclave papal election in the history of the Roman Catholic Church. He abdicated the papacy five months later. Some sources note Pope Gregory XII (1406-1415) resigned in 1415 in order to end the Western Schism.
Bishop Murry said Canon Law dictates that the conclave of cardinals meet after Pope Benedict's resignation becomes official — at 8 p.m. (Rome time) Feb. 28. He surmised the conclave would start meeting in early March. There could be a new pope before Easter, which is March 31.
Only cardinals younger than 80 years old may vote on the new pope. Bishop Murry said many of the voting cardinals were appointed by Pope Benedict so that might influence who is picked. Though papal candidates are usually cardinals, a bishop or priest could be selected. What is unique, Bishop Murry said, is that the new pope will have a mentor in his predecessor.
Other religious leaders commented on the pope's decision.
Bishop Elizabeth Eaton of the Northeastern Ohio Synod of the Evangelical Lutheran Church in America admitted she was "surprised" by Pope Benedict's announcement since nothing like that has happened in centuries in the Catholic Church.
But Bishop Eaton noted that she can't imagine the "physical, emotional and spiritual demands" faced by the leader of the world's 1 billion Catholics.
She said her synod covers 20 counties with about 182 churches and about 70,000 members. "In my own corner of the Lord's vineyard, there's pressure of being a public figure," she said. "Most of us don't answer the [ministry] call thinking about being a TV personality ... and the pope is on the worldwide stage," she said. "Being in the public eye like that has to be tiring."
Bishop Eaton described the pope as a "brilliant theologian" and "clearly very faithful."
The bishop said the Lutheran synod and the Youngstown diocese sponsored a joint trip in 2010 to the Vatican and "Luther's land" in Germany. They were among 10,000 who had an audience with the pope. "We were fairly close and through Bishop Murry we were able to meet with the ecumenical office," she said. "The pope looked fine," she said.
The Rev. Dr. Daniel Schomer, general presbyter of Eastminster Presbytery in Mineral Ridge, said his reaction to the news was one of "surprise" but he knows the Roman Catholic Church has a process in place to "call a new pope."
"I have a lot of respect for the leadership Pope Benedict provided," he said. "He carried out his responsibilities."
The Presbytery serves 51 churches with some 8,400 people in Columbiana, Mahoning, Trumbull, Portage and summit counties.
Sister Nancy Dawson, superior of the Ursuline Sisters of Youngstown and world religion instructor at Youngstown State University, said she believes a "lot of prayer and discernment went into his decision."
She also described Pope Benedict's "incredible theology" in his books and other writings.
Sister Nancy said the pope has "traveled so much, he has a global vision and view" of Catholicism and the world. "He's been pastoral, compassionate and loving," she said as he has faced challenges.
Sister Mary McCormick, who serves on the Ursulines' leadership team and teaches systematic theology at St. Mary Seminary in Cleveland, said Pope Benedict's resignation is "historical and unprecedented in the modern era."
She said many thought his papacy would be "more strident than it was." Even if he wasn't pope, he would have a "strong legacy" as a teacher and theologian.
She cited his encylicals on love, hope and truth and Christianity. "His papers conveyed strong pastoral leadership," she said.
In 2007, Sister Mary was in a papal audience. "He seemed strong and vibrant. But age takes a toll."
"This is a new era in church history," she added.