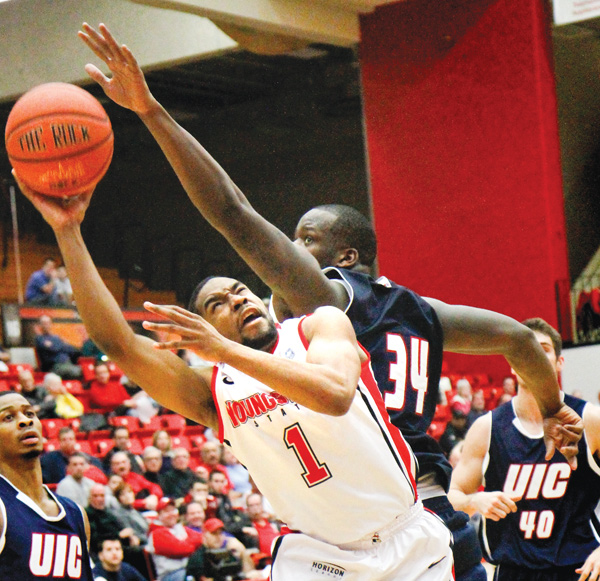 ---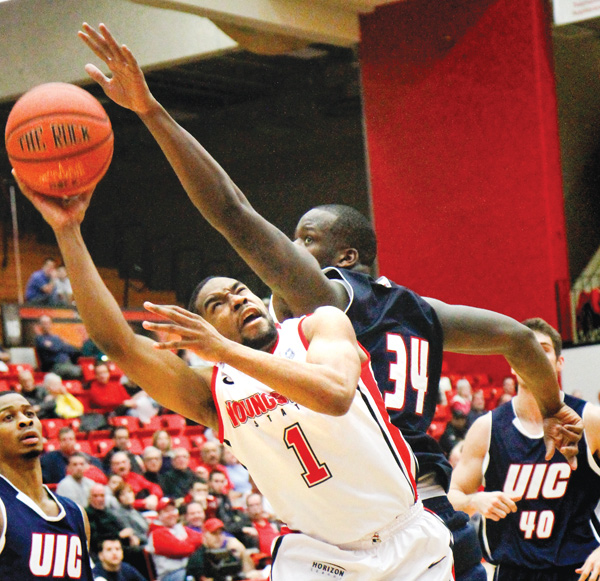 Photo
Youngstown State's Blake Allen (1) is closely guarded by UIC defender Josh Crittle (34) during the second half of Sunday's game at YSU's Beeghly Center. The Penguins went down to the Flames 88-83 in triple overtime.
Penguins fall to UIC in triple overtime
By Joe Catullo Jr.
Youngstown
The Youngstown State men's basketball team went to war with Illinois-Chicago Sunday afternoon in a game that took three overtimes to determine a winner.
When it was all said and done, it wasn't the Flames that defeated the Penguins 88-83 in YSU coach Jerry Slocum's mind.
"I thought we played well enough to win, and we also played poor enough to give it away," Slocum said. "I thought we battled, but we met the enemy tonight, and that enemy was us."
The Penguins (14-11, 6-6 Horizon League) led by four with 1:20 remaining in regulation before Marc Brown's offensive board and putback basket trimmed the deficit to two.
After Kendrick Perry missed a 3-point attempt, the Flames (15-10, 6-6) called a timeout and set up a play for Gary Talton. He found a hole through Penguins defenders and hit a floater, sending the game into overtime.
"We had a foul to give at the end of regulation," Slocum said. "We're talking, telling everybody underneath to foul. They take four dribbles backward with five seconds left.
"It's just stuff like that where we didn't execute."
With five seconds left and trailing by three in overtime, D.J. Cole inbounded to Blake Allen who put the game in Perry's hands. He dribbled left with three seconds remaining, pulled up behind the 3-point line and drilled a game-tying shot with 0.1 seconds left.
"I just tried to see my opportunity and take it," Perry said. "Brown's an excellent defender. He got a hand up on me. I was just blessed the shot went in."
YSU carried that momentum into the second overtime. After two Perry free throws with 1:03 remaining, Talton swerved under the hoop, passed to a wide-open Hayden Humes and drilled a game-tying 3-pointer.
Then Perry missed a jumper, Damian Eargle couldn't put it in after a rebound and Talton missed the potential buzzer-beating 3-pointer.
The Penguins tied the score once in the third overtime but never regained the lead. Missed free throws hurt YSU in the third overtime and overall, making 20 on 33 attempts. Eargle only hit one in nine attempts, including four missed tosses in the three overtimes combined.
"It's part of the game," Perry said regarding the free throws. "We're not going to be perfect. We don't expect to be perfect. We just have to move on and take care of the next play."
Eargle also exited in the third overtime after taking an elbow to the nose, dripping blood on the court. Slocum said there was no update after the game.
During the three-overtime battle, Allen moved first on the YSU career 3-pointers list with 202, surpassing Craig Haese's record set from 1997-2001.
Perry also made history, placing himself in the top 20 all-time scoring leaders at YSU. He finished with 29 points and has 1,206 career points. The Penguins are 2-5 this season when Perry scores 20 or more.
"I think it shows my hard work and dedication, my longevity here at the school," Perry said. "It's a nice individual accolade, but I would have felt a lot better if we would have gotten this win.