McDonald school will represent Ohio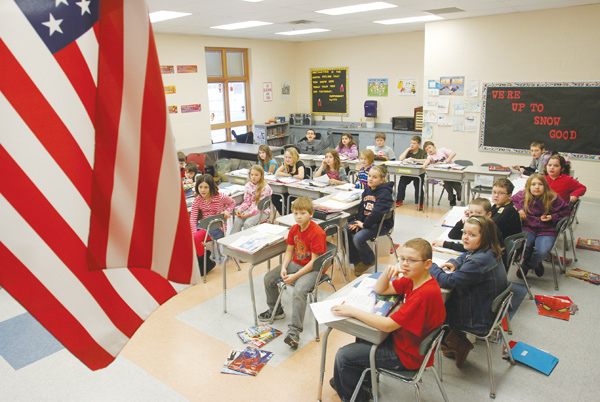 ---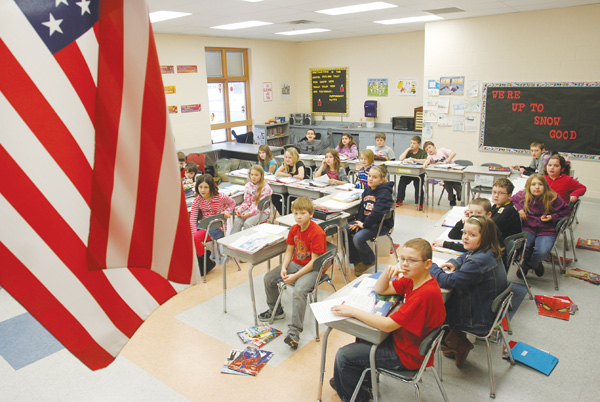 Photo
Students in Matt Vukovic's class at Roosevelt Elementary in McDonald listen to a science lesson. The U.S. Department of Education has selected Roosevelt to represent Ohio and the nation's fourth-graders on the National Assessment of Educational Progress. The test will be given to them Tuesday.
By Denise Dick
McDonald
The knowledge of math and reading of Roosevelt Elementary School fourth-graders will represent Ohio on a national assessment.
Principal Dave Vecchione said the school learned from the Ohio Department of Education last summer that it was selected to represent the state on the National Assessment of Educational Progress. Students will take the test Tuesday.
"It's an honor and a privilege," the principal said.
NAEP is the largest nationally representative assessment of what the nation's students know and can do, according to its website.
Vecchione said Roosevelt was selected because its size and demographics fit the profile of what the program needed.
Students know they're taking a test this week but don't fully understand its meaning.
On a visit to a class last week, Vecchione talked about it and how they're representing Ohio.
"That's awesome," one student said.
The students' scores won't be public. When NAEP releases the report card showing students' knowledge across different states, grade levels and subject areas, Roosevelt's scores will be included as part of Northeast Ohio.
But Vecchione believes the students will fare well.
Three years ago, the school was designated effective on its state report card. That improved to excellent the following year and to excellent with distinction on the most recent report card.
Matt Vukovic, one of the school's three fourth-grade teachers, agreed.
"I think we're all pretty excited," the teacher said.
He expects students will do well.
"We believe in what we're doing," Vukovic said.
Roosevelt includes 473 students in kindergarten through sixth grade, including 77 fourth-graders.
The school prepared student information to submit to the U.S. Department of Education before the tests. The information includes statistics about students with disabilities, those who are on an individual education plan and those who are economically disadvantaged.