$31M reconstruction of plazas on turnpike nears completion

---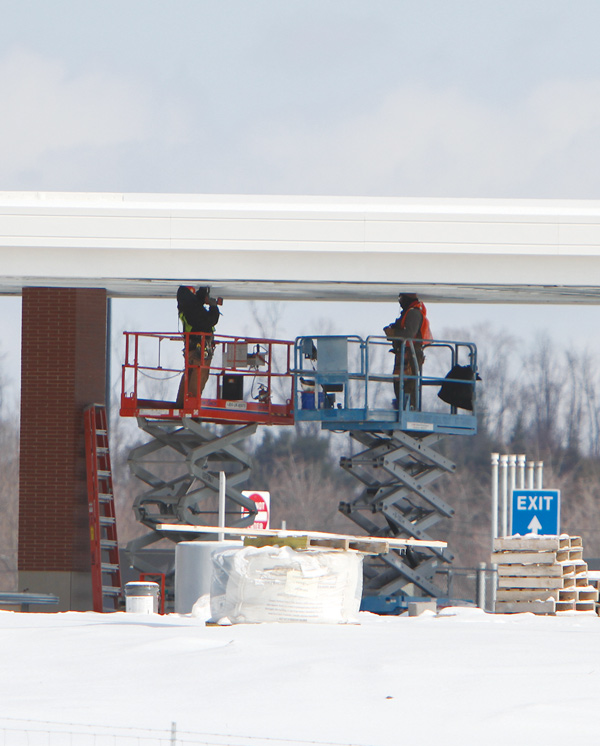 Photo
Crew members work on the ceiling of a fueling area at the Ohio Turnpike's Glacier Hills service plaza in New Springfield. That plaza and the Mahoning Valley plaza should reopen before Memorial Day.
NEW SPRINGFIELD
Two turnpike plazas will reopen before Memorial Day weekend, after a lengthy delay after the termination of the original construction contract.
The Glacier Hills and Mahoning Valley plazas at mile post 237 in New Springfield are still expected to cost about $31 million, but a final total won't be known until construction is complete, said Lauren Hakos, Ohio Turnpike Commission marketing and communications manager.
"If it opens earlier, great, but we definitely want it open before that busy travel weekend," she said.
The commission originally hired Reginella Construction of Pittsburgh, but the commission ended the contract in May 2012 because "they weren't performing contractual obligations" and during site inspections to check on progress "things weren't being completed on time or to specifications required," Hakos said.
The work was supposed to have been completed in the summer of 2012 after being announced in January 2011. When the Reginella contract ended, the commission's bond holder Travelers Casualty & Surety Co. bid the project and hired Vertex of New York City. Vertex was on site working in August, Hakos said.
The new plazas replace facilities that had been there since the turnpike's opening in 1955. Toll revenue is funding the construction.
New restaurants, including Panera Bread, will open in the plazas, as will a trucker lounge area, travel mart and family restrooms.
"We're certainly anxious to have them open, especially because (Pennsylvania) plazas closest to the state line also are closed," Hakos said.
Springfield Township Trustee Robert Orr said he was told 200 full and part time jobs will be created at the plazas. He said those jobs could be a good opportunity for local residents, especially college students who might need part-time work.
The township and Mahoning County Engineer's Office worked out an agreement with the turnpike commission to limit what roads could be used by construction vehicles. Once the plaza was closed, so was access to it from the turnpike.
As part of that agreement, Orr said Glacier Hills Road and portions of East South Range Road and Beard Road were repaved as construction comes to an end.