Kasich plans town-hall meetings to tout his 2-year budget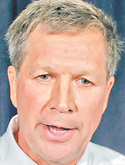 Photo
By Marc Kovac
COLUMBUS
Gov. John Kasich is hosting town-hall meetings to tout the benefits of his two-year spending plan, partisans have launched a war of words over its contents, and lawmakers are poised for lengthy closed-door discussions to finalize the legislation by summer. Thus started the 2014-15 biennial budget deliberations at the Ohio Statehouse this month, with ample opportunity for residents to dig into the minutiae of state government. Along those lines, here are 10 things you should know about the process:
Budget Documents
1The biennial process involves four separate budgets. The main operating budget is the focus of most of the debate, but lawmakers also must sign off on spending for the Ohio Department of Transportation and the Department of Public Safety, the Bureau of Workers Compensation and the Industrial Commission.
The LSC website includes an entire section on budget bills, with "comparison documents" that provide an easy-to-read list of provisions in each, including those that receive little attention.
Blue Book
111In addition to specifics about agency spending, the book provides demographic information about the state.
For example, Ohio has 11.5 million people and is the seventh-largest state in the nation, but its population growth in recent year lags behind most of the country.
Four out of five Ohioans live in cities, with close to half concentrated in Columbus, Cleveland and Cincinnati. One-third live in northeast Ohio.
The state's per capita income last year reached nearly $38,000, up about 4.5 percent from 2010. The state's average household income, $45,090, was behind the national average, $50,046.
Manufacturing still represents the largest percentage of the gross state product, about 16 percent. Twenty-eight of the companies on the latest Fortune 500 list are based in Ohio.
Time line
1Finance committees and subcommittees and other lawmaker panels take up the legislation afterward, with roughly five months of public hearings and deliberations on the contents.
The budget must be enacted so that it takes effect by July 1, the beginning of the new fiscal year. If not, lawmakers have to pass temporary spending authority until they complete the process.
Balancing Act
11Totals
1Two departments dominate the budget, Medicaid and primary and secondary education. Health care and other services for needy Ohioans account for about $31 billion, while schools approach close to $15 billion.
Kasich's plan calls for a shift in how the state pays for those services from relying on income taxes to a broadened sales-tax structure. Under the proposal, sales and use taxes represent about 34 percent of estimated collections, versus about 24 percent for individual income taxes. Federal grants and reimbursements make up about 32 percent.
Sales Tax
1Many other services will remain exempt from sales tax, including adult and child day care, education-related costs, utilities and dance and golf lessons.
What about the Locals?
1The former is set at 5.5 percent, with all the proceeds forwarded to the state's general-revenue fund. Kasich's proposal would decrease that rate to 5 percent.
County commissioners and transit authorities have some discretion in the latter, with both authorized to levy an additional 1.5 percent, in quarter-percent increments but subject to referendum by local voters.
The highest local rate could be 8.5 percent, though the highest currently in the state is 7.75 percent in Cuyahoga County, said Gary Gudmundson, spokesman for the Ohio Department of Taxation.
The authority for commissioners to piggyback onto the state rate is provided in Ohio law by legislators, who also have the authority to roll back local collections, Gudmundson said.
Kasich's budget proposal would lower local add-on rates but guarantee counties receive 10 percent more in sales taxes during the next two years.
Income Tax Plan
1According to the Ohio Department of Taxation, the changes would mean about $133 in savings for a family of four with an adjusted gross income of $40,000 and $662 for that same size household with an adjusted gross income of $105,000.
Single filers at those two levels would save $195 and $749, respectively.
A business owner with business income of $500,000 would save nearly $15,000, while one with $100,000 in business income would save about $2,200.
Increase or Cut?
1Democrats already are calling it a tax increase, saying the cuts in income-tax rates will not make up for the broadened sales-tax collections.
But Republicans are saying the plan represents a $1.4 billion tax cut once all components are totaled.
What's Next?
2