Days honored by family for 60th anniversary
POLAND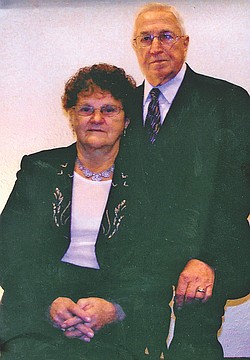 Photo
Cornell and Marie Day of Poland were honored by their family with a party Feb. 9 at Fire Mountain Restaurant, Chippewa, Pa., for their 60th wedding anniversary.
Their children are Shirley Day and David Day, both of Struthers; Gary Day of Cornersburg; Gerald Day of Youngstown; and Theresa Bass of Miami, Okla. Ten grandchildren and two great-grandchildren complete their family.
The couple were married Feb. 7, 1953, at Krehwinkel Church of God in Krehwinkel, Germany. They are members of Struthers Faith Fellowship Church of God.
Mr. and Mrs. Day worked for Transit Service of Struthers. She was a bus aide, retiring in 2002, and he was a bus driver, retiring in 2008.
Mr. Day is a U.S. Army veteran, serving in Germany from 1951 to 1953.