Sirak-Winters will exchange vows in April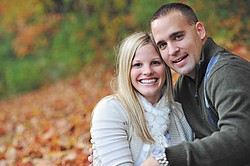 Photo
BRITTANY L. SIRAK AND JORDAN B. WINTERS
The upcoming nuptials of Brittany Leigh Sirak and Jordan Bruce Winters, both of Columbus, are being announced by their parents, Connie Sirak of Canfield, and Bruce and Bonnie Winters of Boardman.
St. Charles Church in Boardman will be the setting for a 1:30 p.m. April 13 open wedding ceremony. Invitations will be extended for a reception at the Lake Club in Poland.
The bride-elect earned a doctorate in physical therapy from Youngstown State University. She is a physical therapist at Mount Carmel West Hospital in Columbus.
The prospective groom received a master's degree in business administration from Ohio State University. He is a securities analyst for the State Teachers Retirement System of Ohio in Columbus.