Henkel-Laufman wedding planned in Wisconsin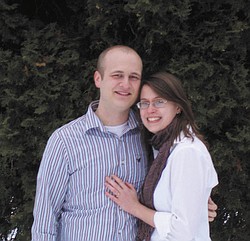 Photo
JUSTIN LAUFMAN AND ALANA HENKEL
Phil and Connie Henkel of Rice Lake, Wis., and Daniel and Debbie Laufman of Canfield are announcing the engagement of their children, Alana Henkel of Rice Lake and Justin Laufman of Bowling Green, Ohio.
The couple will wed May 26 at Redeemer Evangelical Lutheran Church in Rice Lake, where a reception will follow.
A reception at a later date will be celebrated with the family and friends of the prospective groom.
The bride-elect received a bachelor's degree in music education from the University of Wisconsin-Madison and is pursuing a master's of music in oboe performance at McGill University, Montreal, Quebec, Canada.
The groom earned a bachelor's degree in math education at Youngstown State University. He is pursuing a master's of music in tuba performance at Bowling Green State University.