Israeli emissaries connect to Valley
By LINDA M. LINONIS
Youngstown
Israeli Culture Comes To Youngstown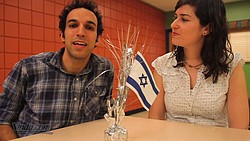 Video
Israeli customs and traditions are being shared in Youngstown.
As emissaries from Israel, Talia Shlomi and Tomer Elooz want to connect with the people they meet. They're accomplishing that through cultural, educational, religious and community events.
The couple coordinates the Shlichim Programs for Youngstown Area Jewish Federation at the Jewish Community Center, 505 Gypsy Lane.
In Hebrew, shlichim means emissary. In the JCC program book they're described as "Israel community representatives" who serve in Jewish communities worldwide to provide a "cultural and educational link" between local communities and Israel. They arrived August 2012 and will stay until this August.
Shlomi, 26, is from Nahariya, a northern coastal city about 10 minutes from the Lebanon border. Elooz, 28, is from Haifa, Israel's third-largest city, also in the north. For the last few years, they have lived in Jerusalem.
Both have completed the required military service; Elooz was a paratrooper and Shlomi worked with sophisticated communication devices. He is working on a master's degree in public policy at Telhai College, and she studied at Hebrew University, focusing on history and education and earning a teaching certificate.
Their backgrounds and experience come in handy as they teach Hebrew at Akiva Academy, instruct Israeli dance classes and arrange Lunch and Learn programs.
About 20 people attended a second dance class this week at the JCC. Shlomi was assisted by another emissary, Yifat Yerushalmi and her daughter, Mika. Elooz cued the music, which naturally draws people from their seats to their feet.
Shlomi described the dancing as "a mix of cultures from Jews from different places that creates Israeli dancing." She noted that "every Saturday in the summer since I was 10," she went to informal dance sessions. "I copied the steps from other people," she said. Israeli circle dancing, done as a group, is "street dancing" and celebratory, Shlomi said.
So the students copied, or some tried to, the steps of the teachers.
"You have to smile while folk dancing," urged Mika Yerushalmi. Some students were naturals, easily coordinating clapping and finger snapping to dance steps. Teachers offered encouragement as students picked up the steps and completed dances.
The emissaries invited the dance students to participate in Israel 65 All Family Event on April 21 and show off the dances they've learned.
Shlomi and Elooz said they'll be building a shuk, an Israeli market, and a Western Wall. There also will be Israeli foods such as falafel, which is chick peas and herbs; tahini, which features sesame seeds; hummus and eggplant salad. Zvika Arbel, an Israeli musician, will entertain.
The Israeli 65 event encourages a connection between Israel and the United States. "Israel is the Jewish state, but almost half of the world's Jews live in the United States," Elooz said. The emissaries said the event will bring the flavor of Israel to Youngstown.
Through various presentations in the Mahoning Valley, Shlomi and Elooz said they hope to show different sides of Israel.
In Israel, they said, Jews "live the religion" through the culture. American Jews must make an effort to observe holidays and customs. "Jewish life in America is very different from Israel," Elooz said. The two see the differences as a "learning experience."
Bonnie Deutsch Burdman, director of the federation's Jewish Community Relations Council, said the federation has arranged for emissaries for the last five years. She noted they provide a "connection to Israeli culture."
Sam Cooperman, executive director of the federation, said the federation is a partner with the Jewish Agency for Israel in Western Galilee in Israel. The partnership involves cultural, educational, social, medical and economic programs. "The emissaries bring a taste of Israel to the U.S.," he said.