YSU women hang on to edge Detroit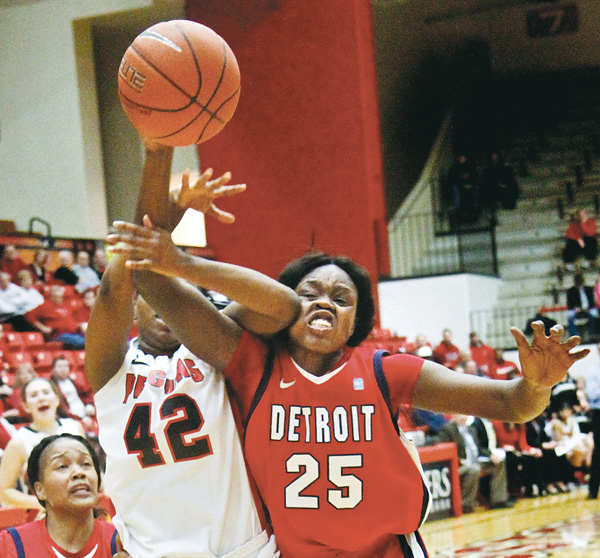 ---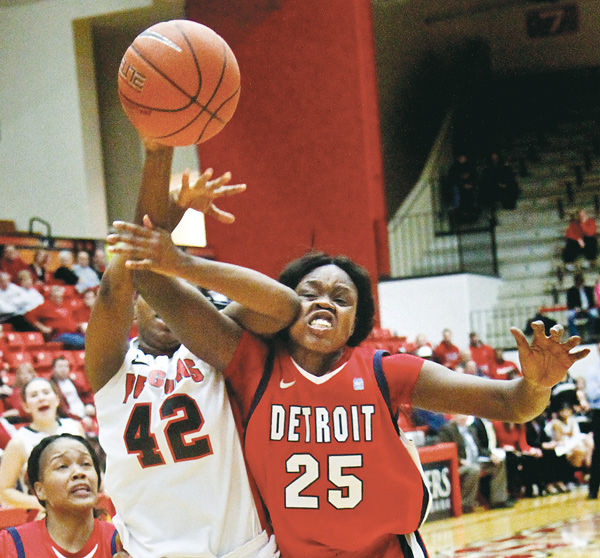 Photo
Detroit's Yar Shayok (25) is elbowed in the face by Youngstown State's Brandi Brown (42) as Brown takes a shot during the first half of their game Thursday at YSU's Beeghly Center. The Penguins defeated Titans, 58-53.
By Joe Catullo Jr.
Youngstown
Taking control of the game, Brandi Brown hit a jumper with 4:55 remaining against Detroit on Thursday. It was the last time Youngstown State made a field goal.
The Titans scored eight points down the stretch, but needed three more. A backcourt violation against Brown and the possession arrow gave Detroit 53 seconds to nail a 3-pointer.
The Penguins' defense, though, didn't allow another point on four 3-point field goal attempts, and Monica Touvelle's free throws sealed a 58-53 victory.
"I thought this was a pretty good defensive effort across the board," YSU coach Bob Boldon said. "It took us a little longer to get into than we would have liked, and I thought they responded very well."
The Penguins (16-5, 6-2) began slow and trailed by six before scoring a point. The Titans (12-8, 5-3) used Shareta Brown as a shield, preventing YSU from doing anything in the paint.
"I don't know if we were necessarily ready for the physicalness of the game the first couple of possessions," Boldon said. "I thought they beat us up on the board early. We managed to tie them in the second half rebounding."
Shareta Brown, leading the Horizon League with 22.7 points per game, scored 11 in the first half and committed one foul.
But Brandi Brown stepped in front of her and drew three charges. With 7:08 remaining in the game, Shareta Brown committed her fifth foul on Heidi Schlegel, finishing with 15 points.
"I would say it helped significantly," Boldon said regarding the fifth foul. "She's a fantastic basketball player. She's the best post player in the conference.
"I talked to coaches, and nobody has a plan to stop her. Our plan didn't work. We really had no answer for guarding her. Having her down the stretch definitely would have made a difference for them."
Karen Flagg led all players with 17 points. She committed her fourth foul with 12:31 remaining and said her game changed but did not let up.
"I was scared to get my fifth foul, honestly," Flagg said. "It did change, but I just kept going."
Brandi Brown did not have her best shooting performance with 12 points but played one of her most physical with 18 rebounds. She even threw down Audrey Matteson with 3:03 remaining.
Brandi Brown and Matteson were fighting for possession with their arms intertwining. Matteson lost the battle and fell hard on her side.
The Penguins have a week off from action before heading to Milwaukee on Feb. 14. The win over Detroit gives YSU sole possession of second place in the conference.
"It was a hard-fought win that our kids definitely deserved," Boldon said.