Boosting security at Boardman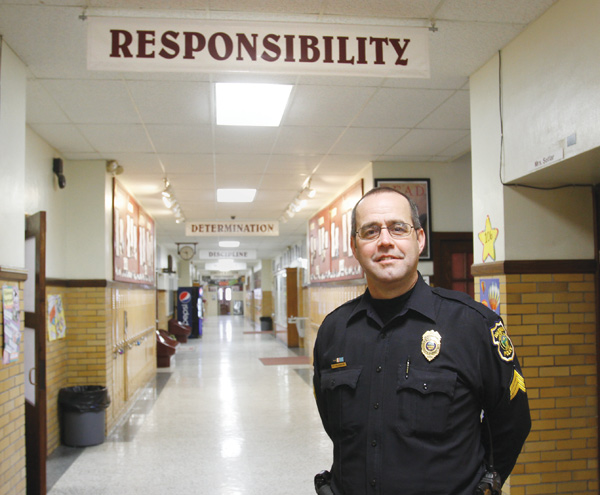 ---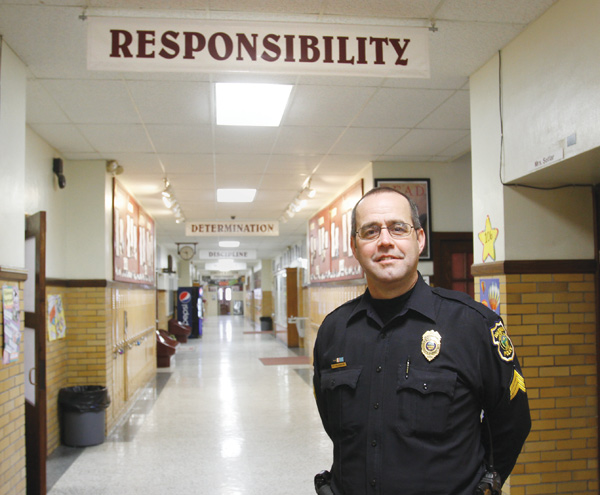 Photo
Boardman police and schools are working together for a training session this spring on how to address a school crisis, such as a shooting, said Sgt. Chuck Hillman, the school resource officer.
By Ashley Luthern
BOARDMAN
Boardman schools are bolstering security measures by planning new training sessions and seeking a replacement levy in May.
In terms of security, "we are ahead of the game. We are good, and we want to be great," said Superintendent Frank Lazzeri.
School board President John Landers said a school-safety committee has been organized and is working closely with township police to maintain and enhance current policies.
"I think the community is good with where we are at, but I hope they agree we want to improve," Landers said.
The high school already has a full-time security officer, and the township provides a school resource officer, Sgt. Chuck Hillman, who began working the schools in 2001 as part of a federal grant.
Hillman said the police department and the district will collaborate on school-crisis training during spring break. The training will include the Crisis Response Team, Mahoning County Sheriff's Office and neighboring police agencies among others.
In addition, the police department is planning to rebuild its juvenile-diversion program, which had been disbanded in 2008 for budget reasons, and Hillman said that will benefit local students.
"I was around when we had juvenile diversion, and I see the need for it with the teens and families I deal with daily," Hillman said.
The school board also wants to improve security in the district's aging buildings by using revenue from a 1.6-mill permanent-improvement replacement levy. Landers added the district will apply for any security grants that might become available.
The buildings all have buzz-in entrances, but are at least 40 years old with some parts of Center Middle School dating back more than 100 years.
"They weren't designed around safety. ... Back then, people didn't worry about terrorism or shooters," Lazzeri said.
The replacement levy would cost an additional 5 cents a day, or $18.25 annually, for the owner of a home valued at $100,000. The 1.6-mill, five-year permanent-improvement levy raises $821,219 annually and has an effective millage rate of just under 1 mill, Lazzeri said.
The levy was first approved in 1988. In the past, it has been used for replacing boilers, adding more rooms to schools and paving parking lots.
In 2001, the permanent-improvement levy was generating $921,153 annually, and the reduction stems from loss of the tangible personal-property tax, Lazzeri said.
The levy expires this year, and the school board chose a replacement rather than renewal.
For security reasons, Lazzeri declined to list specific projects that would be undertaken using the additional $482,671 the replacement would provide annually, but said it can be used only for physical improvements, such as security cameras, not personnel.
A past example of increasing security through permanent improvements was the project to build new classrooms at Stadium and Robinwood Lane elementary schools to replace portable trailer classrooms. Parents were concerned about their children's safety in the portable units, Lazzeri said.
Replacing the portables at the two schools cost about $5 million, and the district had to borrow against future revenues to fund it. The district will be paying off that project for the next 25 years from the permanent-improvement fund, he said.
"After we pay that off, we only have $240,000 left for all other projects," Lazzeri said.
That yearly amount dwindles quickly. In January, the school board approved spending $150,000 to replace an aging waterline that goes under Glenwood Middle School and is in danger of bursting. That leaves only $90,000 for all other permanent improvements.
Also in May, voters will be asked to renew a 5.9-mill, five-year tax levy for current operating expenses that generates more than $4.6 million annually.