Poland wrestlers win EOWL Division III title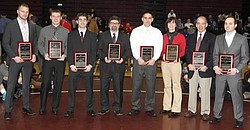 Photo
The Eastern Ohio Wrestling League (EOWL) inducted a new class into its Hall of Fame prior to the finals last Saturday. The 2013 class includes, from left, Eric Chine, Nick Dierkes, Max Pearce, Jerry Pasquale, Jason Neapolitan, Sister of Rich Luchette, Fred Luchette and Klynt Maston.
The Poland wrestling team placed a school-record seven competitors en route to winning the Division III team title during last weekend's EOWL tournament at Boardman. The Bulldogs placed sixth overall among the 20-team field.
What makes the accomplishment more telling is that of the seven placers, only one was a senior, which bodes well for the future of the wrestling program.
Poland's EOWL success was sparked by brothers Mike (170 pounds) and Anthony Audi (160), who both finished second in their respective weight classes. Freshman Dante Ginnetti (106) took third and senior Tad Duran (126) finished fourth. Freshman Darren Goodin (113), sophomore Bruno Spottleson (132) and junior Abe Kassem (195) each took sixth.
Prior to the EOWL finals, a new class was inducted into the Hall of Fame. One of the members was Max Pearce, a former Poland wrestler. His bio is below.
Poland will have a week off to prepare for the Division II sectional tournament at West Branch on Feb. 15-16. Last year, the Bulldogs advanced two wrestlers to districts, including Mike Audi, who is projected to advance to the state tournament.
2013 EOWL HALL OF FAME
MAX PEARCE
Max Pearce began his wrestling career as a youth wrestler at age 11 in the Boardman youth wrestling program. As a young wrestler participating weekly at Austintown Fitch High School, he finished as a OYWA state qualifier. He went on to represent Poland as its first wrestler in 2001. To develop his skills, Pearce practiced throughout the EOWL where he was welcomed by coaches from Austintown, Canfield, South Range and Boardman. While at Poland, he was a Sectional champion and District runner-up. He completed his high school career by finishing fifth at the 2005 state tournament. He graduated from Miami University in 2009.