Parents and law officials weigh-in on a potential new law
---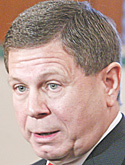 Photo
By Danny Restivo
Youngstown
In an age where information and communication are more easily accessible, children have become more vulnerable to online solicitors.
Not only is the cyber age creating problems for parents, it's also producing issues for prosecutors looking to charge adults caught soliciting minors online.
Dennis Watkins, Trumbull County prosecutor, cited a case in which a parent wiretapped the phone of her 16-year-old who was having an inappropriate relationship with an adult. Watkins said the child was not willing to cooperate with police, and the only evidence he could use was the phone recordings.
Due to privacy laws, Watkins could not pursue a felony charge. State law prohibits the "interception of a wire, oral or electronic communication," according to an analysis by the state's legislative services commission.
"Parents still have the responsibility to protect their children," said Watkins. "The laws need to adapt to the age we live in."
On Wednesday, state Rep. Brian Hill, R-Zanesville, introduced a new law that may help parents defend their children against such criminals.
House Bill 15 would allow a parent's computer-monitoring device to be admissible in court when efforts are being "made in good faith for the child's protection."
Hill offered the bill after an incident in his district in which an adult male and underage girl were having an inappropriate relationship. Hill said the girl's father had installed a monitoring device on the computer, but the charges were not filed after the father was advised that a monitoring device was illegal and the evidence he collected was inadmissible in court.
Watkins said it can be difficult for parents to keep up with children in the digital age, but parents are obligated to do their best.
Lisa Weimer of Poland said it can be tricky for parents today, but laws such as HB15 make perfect sense.
Weimer said she doesn't have an electronic device on her 14-year-old's computer, but she does have his password and he can only use it when family is around. She believes a law allowing computer-monitoring evidence in court is common sense.
"If someone was doing something inappropriate, then absolutely, I would want it used in court," she said.
Harriet Schor of Liberty also is supportive of the law. Schor has a policy similar to Weimer's at her house. Schor has two daughters, one in college and the other in high school. She said she isn't "breathing down her children's neck," but she believes the courts are obligated to protect her children after she monitors them online.
"If they are minors, under my roof, and on my payroll, then absolutely I think it should be admissible in court," she said.
Watkins echoed the parents' sentiment on HB15, but he believes a quickly evolving world creates conflict.
"It is a natural outcome of a developing society that you are going to have some conflict between the parent and child," he said. "But the balance has to be weighted in favor of the parents."