Published: Fri, February 8, 2013 @ 12:05 a.m.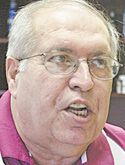 Photo
VTR - Bob Hagan

Video Set
YOUNGSTOWN
In response to the early findings of a criminal investigation, the Ohio Department of Natural Resources on Thursday announced it had permanently revoked the operating permits of D&L Energy and Hardrock Excavating.
The move stems from Hardrock owner Ben W. Lupo's decision to direct an employee of the company to dump thousands of gallons of fracking wastewater — including oil and brine — down a storm drain at 2761 Salt Springs Road, where it is headquartered, according to preliminary reports from regulators and an Ohio Environmental Protection Agency notice of violation signed by Lupo.
The waste then made its way down a creek and into the Mahoning River.
Though the sanction for Hardrock is minor — the revocation of its permit to haul brine, which allowed it to transport oil-field waste to the facility — the penalties are far steeper for D&L, which Lupo also owns.
Bethany McCorkle, chief of communications for ODNR, said the decision to terminate D&L's permit came after regulators discovered that the company had allowed an unauthorized and unregistered brine truck to accept fracking waste at a separate site elsewhere in the region. McCorkle did not provide the details of when and where that incident occurred.
Under state law, brine haulers are required to maintain a daily log and must be certified with the ODNR's Division of Oil and Gas Resources Management.
McCorkle said the truck in question was not in compliance with the law. For D&L, the permit revocation means the company must cease all injection-well operations in Ohio, including six current permits. It also will be denied approval for three new injection-well permits it recently filed for, and, most importantly, it no longer will be allowed to store waste at 2761 Salt Springs Road.
"Ohio has enacted some of the most comprehensive oil and gas regulations in the nation to safeguard the public and the environment," said ODNR Director James Zehringer in a statement. "ODNR treats all allegations of wrongdoing involving oil-field waste very seriously and will continue to aggressively investigate each of these cases to ensure violators are held accountable."
McCorkle and others, such as Linda Woggon, executive director of the Ohio Shale Coalition, called the move to revoke the companies' permits unprecedented, with no similar instance in recent memory even coming close.
Still, Lupo will not be limited in continuing his oil and gas operations. A deeper examination of records filed with the Ohio Secretary of State's Office show that Lupo has either owned or been affiliated with more than 70 businesses in the state stretching back to the 1980s, several of which, including D&L, are currently headquartered at 2761 Salt Springs Road.
For instance, PetroFlow Inc., which is responsible for drilling, fracturing, completing and placing extraction wells into production for D&L Energy, is unaffected by ODNR's latest actions. McCorkle said those businesses are not being scrutinized, but she added that if regulators discover any wrongdoing on behalf of Lupo's other operations during their investigation, penalties against those companies would be considered.
"You need a permit in order to operate," Woggon said. "What regulators are attempting to do based on their investigation is aggressively pursue any and all wrongdoing. We agree with them: It's a heinous action on the part of Hardrock."
ODNR has requested the Ohio attorney general to initiate civil proceedings.
Nathan Johnson, an attorney for the Buckeye Forest Council, said under state law, D&L will be given an opportunity for a hearing where it can present evidence to counter ODNR's findings. The company also can appeal the regulatory agency's decision with the Mahoning County Common Pleas Court. He added that such a move would have to be made separate from the criminal investigation being pursued by state and federal regulators.
Vince Bevacqua, D&L spokesman, did not dismiss the possibility of an appeal in a statement released late Thursday. "D&L Energy Group is currently reviewing the actions taken by ODNR relative to its companies' operating permits, and intends to respond to, and perhaps appeal, such action at the appropriate time and in the appropriate venue," read the statement.
The company would not comment further.
In any event, Lupo is no stranger to civil litigation. Court documents show that two cases in which he is the defendant, one filed in 2009 and another in 2011, are pending with jury trials scheduled later this year. Case files at the Mahoning County Common Pleas Court are at least 6 inches thick, and a brief glance at the documents shows how complex the complaints filed against him are.
The complaint filed in November 2011 lists 16 plaintiffs, including several that share the corporate address of D&L Energy, such as Hardrock Excavating itself, as joint parties in the case against Lupo.
State regulators are still awaiting samples that were taken from the site of the spill over the weekend to determine what chemicals made their way into the Mahoning River. The cleanup is in a race against time as workers try to beat an anticipated snowmelt that could make the spill's effects worse, said Chris Abbruzzese, deputy director of communications for the OEPA.
In addition to the special prosecutor he called for Wednesday and the legislation he says he'll introduce next week requiring elected officials to be notified of a hazardous spill immediately, state Rep. Bob Hagan of Youngstown, D-58th, said he's requested that Lupo be arrested as well.
"I'm asking the mayor to ask his police chief, and asking the county sheriff and Ohio attorney general to make an arrest," Hagan said. "No one should be above the law. This man put his name on a [document] saying he broke the law."
Meanwhile, U.S. Sens. Rob Portman, a Republican, and Sherrod Brown, a Democrat, said they are outraged by the dumping of fracking waste into a storm drain.
"If the reports are true, they are outrageous and the violators should be prosecuted to the fullest extent of the law," Portman said Thursday. Portman said these violations, if proved, appear to violate state and federal laws.
Youngstown Fire Chief John J. O'Neill Jr. said he was told by an OEPA official that state and federal charges likely would be filed.
"In my mind, any polluter [of this magnitude] should be brought to justice," Brown said, adding, "not just the company," but officials at the company that ordered the dumping. "It's a very serious offense, if it's true. The authorities should be involved."
The senators said incidents such as this hurt the oil and gas drilling industry.
Portman has received $346,608 in campaign contributions from the gas and oil industry during his time in Congress, according to data from the Center for Responsive Politics, a website that monitors campaign contributions. Think Progress, a liberal web blog, lists Brown as receiving $63,250 in campaign contributions from the gas and oil industry while in Congress.
Vindicator reporter David Skolnick contributed to this story