Guarnieri, 100, rolls to celebrate
---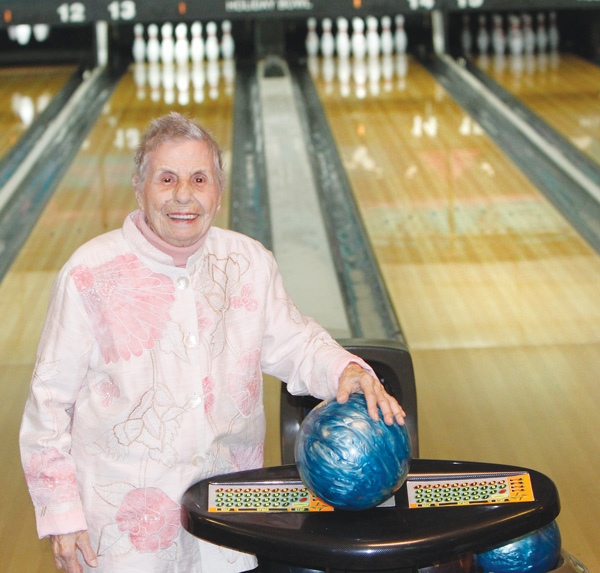 Photo
Jean Guarnieri, of Liberty, a senior league bowler at Holiday Bowl in Struthers, rolled a 100 on Wednesday, which was her 100th birthday. A plaque, cake and cards also marked the occasion.
The Liberty centenarian participates in the Holiday Seniors League
STRUTHERS
Wednesday afternoon's session of the Holiday Seniors League wasn't just perfunctory, it was celebratory.
Those who gathered around Liberty's Jean Guarnieri on lanes 13 and 14 after she arrived at Holiday Bowl were prepared to sing "Happy Birthday."
A one-candle cake, a plaque and a card were presented to Guarnieri, who turned 100 on Wednesday.
"I'm so fortunate. Thank you, God," Guarnieri said of her good health that keeps her coming back — with the help of a good daughter.
"She's an amazing woman. She runs circles around me," said Diana Danko, who drives her mother to Holiday Bowl every Wednesday for the 1 p.m. league.
Born in Kensington, Pa., in 1913, Guarnieri was one of 13 children. Jean still has a sister who is 103.
"She's full of life," one of her league-mates said of Guarnieri, whose stylishly cropped salt-and-pepper hair and winter-themed pullover sweatshirt on a cold February day are a testament to her verve.
"I'm out with a wonderful group of people for social recreation," Guarnieri said of the Holiday Seniors, a 9-pin no-tap league comprising 36 bowlers.
As a member of the Cardinals team, Guarnieri carries a 102 average in the league which counts any 9 pins knocked down as a strike.
Her highest single game so far this season is 152. Her three games on Wednesday were 96, 100 and 87.
But it's not uncommon for Guarnieri to get an actual 10-pin knockdown for a strike.
"She's a challenge because I don't want to be beaten by someone older than me," Cardinals teammate Mike Zabel said.
Zabel, a pastor at Faith Community Coventry Church on Midlothian Boulevard, joined in September.
"That's when I heard the joke that Jean was beating me one out of every three games. My pride was hurt."
But he added, "She's an inspiration. I can only dream of being able to bowl at 100."
Bowler Frank McCormick arranged the celebration and said that the one candle on Guarnieri's cake represented one century.
McCormick is a member of the Lost Highway team that bowled against Guarnieri's Cardinals on Wednesday, when Jean's grandsons and a great-grandson were present.
McCormick said he undertook the task of having a plaque made.
"It congratulates Jean for her enthusiasm to the game from our league and the alleys. Hopefully, she'll cherish this as will her family 50 years from now."
He continued: "If you asked anybody at Holiday, they'd say they love her. She's a jewel, so sweet."
League secretary Val Noble is also a Lost Highway member as are Frank Mediate and Bob Meredith.
"It's an honor," Noble said of being the team to bowl against Guarnieri on her special day.
Tonkinson is Jean's closest friend and the league's cake-baker.
"Jean and I and our husbands bowled for 25 years back when the league was known as the Holiday Traveling Seniors," Tonkinson said. "We went to Sandusky and Pittsburgh, but not anymore."
Tonkinson's description of the centenarian is simple: "She's very nice and has a good outlook on life."
Tonkinson had her own birthday on Jan. 29 when she turned 89.
"It was the best birthday present ever because I got my driver's license renewed."
When Guarnieri's team lost a few members during the 2011-12 season, she and Tonkinson didn't quit.
"They continued to bowl, but didn't win any points," McCormick said. "They just enjoyed the bowling. It made me appreciate good sportsmanship."
When Guarnieri is summoned to bowl, her mechanics include a three-plus step approach before dropping the ball with a back-handed release. Her spunk shows when she flits across the boards upon returning to her seat after getting a mark.
After her family moved to Youngstown, Guarnieri, whose maiden name was Petrarca, said that her father began publishing an Italian newspaper, "Il Cittadino" or "The Citizen."
She said she used to help him fold the various sections at their kitchen table before the family distributed the papers.
Guarnieri's most vivid memory of her early years was the Great Depression in 1929 and its fallout.
"It was like a big tragedy. It affected everybody."
Wednesday's league party was the opposite: it was an anti-Depression moment.