Hubbard Students compete in science competition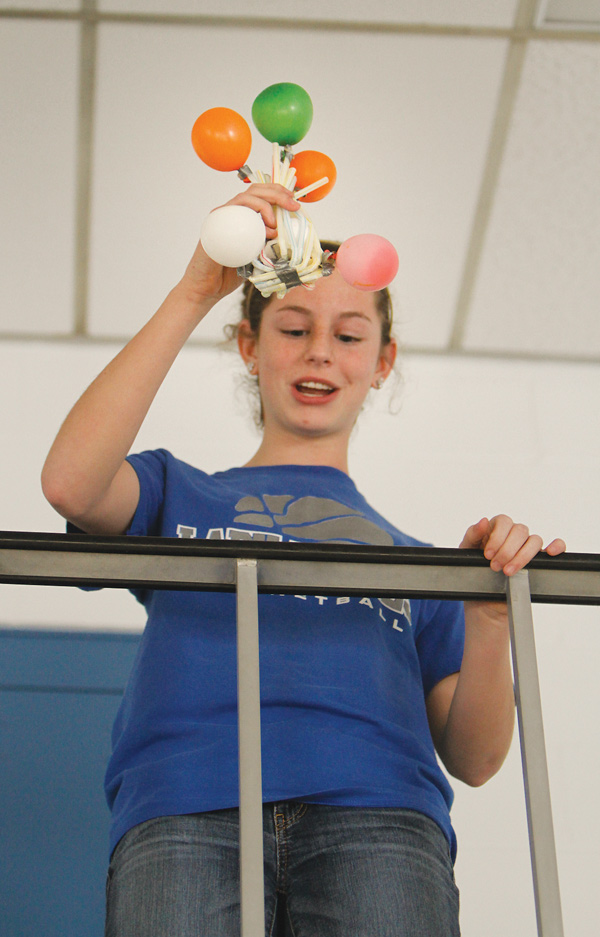 ---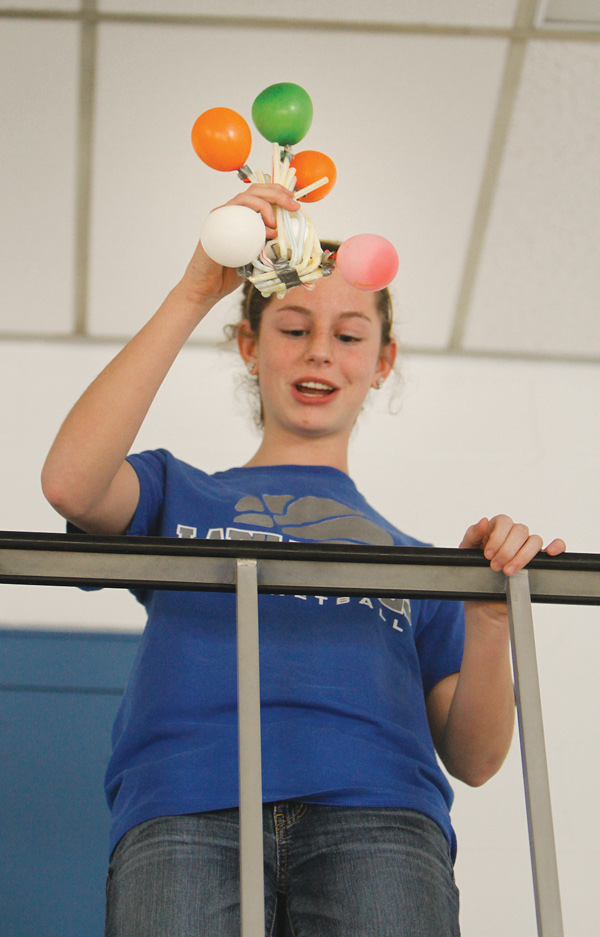 Photo
Melissa Thomas drops her egg capsule during an egg-drop contest at Hubbard community pool. Hubbard High School hosted its first science festival Thursday.
By Danny Restivo
Hubbard
Competition is known to create ingenuity, an integral part of scientific experimentation.
On Thursday, high school students exhibited that quality in the district's first high school science festival. Students faced off with one another in events that tested creativity and resourcefulness.
In the high-school gym, 40 students gathered for a carbon dioxide car race. Each student designed and built a car from wooden blocks and plastic wheels. The cars then were propelled by a mini carbon- dioxide cartridge in a 50-foot long drag racelike competition.
Sophomore Tyler Cole said the secret to success was all in the design process.
"You have to get the lightest and most aerodynamic car," said Cole. "You also have to have wheels that spin fastest."
Cole said he was a little apprehensive about his car, the Mighty Duck. He said he didn't put in the quality of work he would have liked, but he was still hoping for the best.
At the nearby Hubbard community pool, students participated in an egg drop contest. The objective was to build the lightest device possible, while keeping the egg from cracking. Students dropped the eggs from a 3- meter height onto a 25-centimeter target. The goal was to hit the target while keeping the egg intact.
Senior Ryanne Fronzaglio was hoping to earn bonus points in her advanced placement chemistry class with a good performance. Her egg container was a small cardboard box filled with cotton from some stuffed animals at home, she said.
"Well, my grandparents helped me with it, so we will see what happens," said Fronzaglio.
Other competitions included bridge building, a catapult throw, poster design and an essay contest.
All the events were part of this year's theme. "Today's inspiration, tomorrow's innovation." The science fair is intended to be an annual event.