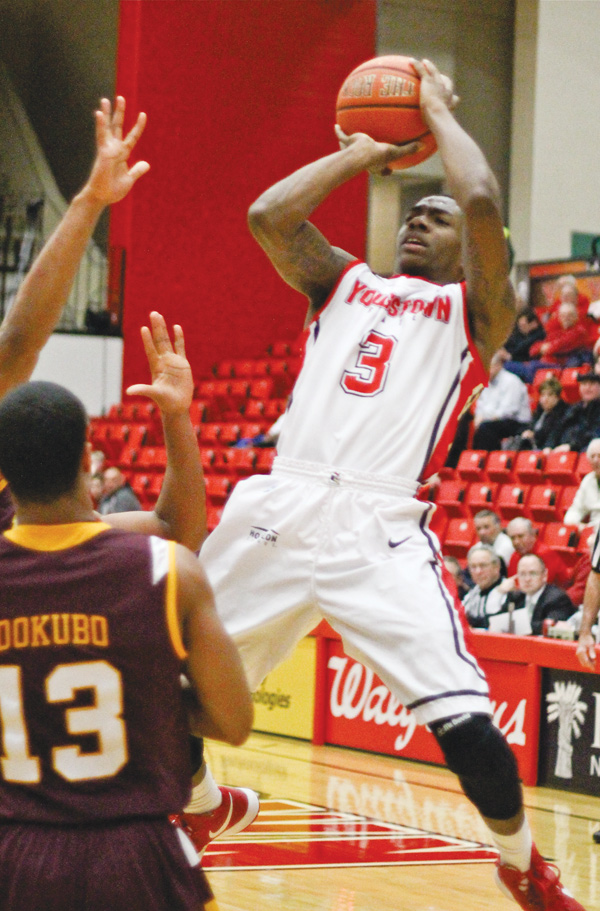 ---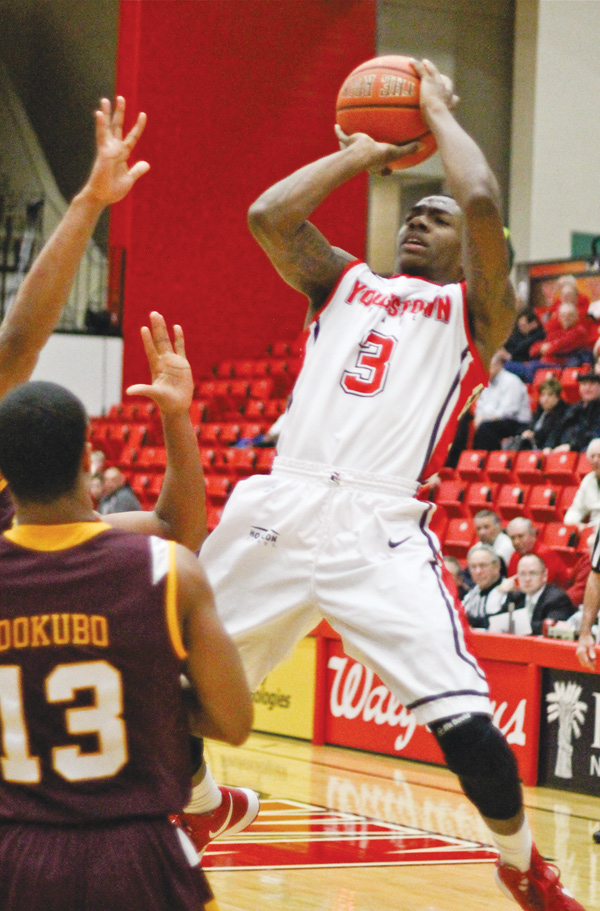 Photo
Youngstown State's Kendrick Perry (3) leans back for a jump shot while being defended by Loyola's London Dokubo (13) during the second half of their Horizon League game Thursday at YSU's Beeghly Center. A 3-pointer by Blake Allen with 12 seconds remaining gave the Penguins the 60-59 win over the Ramblers. Perry finished with a team-high 18 points.
Allen's big shot saves the Penguins
By Joe Catullo Jr.
Youngstown
Walking into the conference room Thursday night, Blake Allen never looked happier.
He got to sit down and discuss his game-winning 3-pointer in the 60-59 victory against Loyola.
That one shot turned YSU coach Jerry Slocum's and Allen's attitude around. What could have been a one-minute and 25-second disheartening press conference like Cleveland State on Tuesday transformed into seven minutes and 36 seconds of joy.
"Guys, we won. You have to be smiling a little bit," Slocum said to the quiet room.
Trailing by 14 at halftime, the Ramblers (13-11, 3-8) led by two with seconds remaining, trying to hang on to the 16-point swing. The same thing happened when YSU (14-10, 6-5) trailed by 14 in Loyola on Jan. 5 before winning 68-66.
Slocum forgot his Penguins were in the same boat, but said it wasn't a coincidence.
"That's a good point," he said. "Nah; I don't know. Write whatever you want."
After Devon Turk missed a free throw, Kendrick Perry grabbed the rebound and raced up court. The Penguins had two timeouts remaining but didn't take one.
Perry wanted to drive for a game-tying layup but was cut off. With about 15 seconds left, Kamren Belin set a pick, Perry dibbled to his left and found Allen open behind the 3-point line.
Allen quickly released it, and his knuckleball-esque shot hit nothing but net.
"When it left my hands, it felt really good," Allen said. "I was like 'that's right on line.' If I had the right touch, I knew it was going in."
Loyola had a timeout remaining but didn't take it. Jeff White attempted a floater over Damian Eargle but hit the back iron.
Allen made no 3-pointers in the first half on four attempts. His game-winner was his only attempt in the second half. He said it was probably just one of those nights.
"I guess so, but I will definitely take the last one over hitting four or five earlier in the game and we lose," Allen said. "The last one is the one that matters."
Loyola was without its leading scorer in Ben Averkamp due to a concussion. Slocum said he knew about it half an hour before tipoff, but the game plan didn't change.
Perry led the Penguins with 18 points. Belin finished behind him with 11, and Allen scored 10.
"I'm very happy we won [but] so disappointed in our second half performance," Slocum said. "It is what it is. We played well when we needed to and made a big time shot."