Canfield youth wrestlers advance to OYWA state

Photo
Carter Myers (top) works his opponent to his back during their district tournament bout last weekend in Austintown.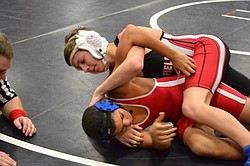 Photo
Michael O'Horo (top) powers his opponent over to his back during a match last weekend at districts.
The Canfield Wrestling Club had 19 wrestlers compete in the Ohio Youth Wrestling Association (OYWA) district tournament last weekend in Austintown for a shot at placing in the top four in their weight class and advancing to the state tournament in Akron tomorrow.
Seven Cards achieved that goal, including four who won district championships. Alec Herman (52 pounds), Michael O'Horo (110), Nathan Whitehead (120) and Tyler Stein (132) all won their weight class. Nick Crawford (105) finished second, Carter Myers (100) third and Anthony D'Alesio (105) fourth.
"I'm really proud of how well we wrestled today," said coach Dave Crawford. "The boys work hard all season knowing that going to state is the end goa, and it is a special honor to earn that trip. For these seven, all the push-ups, pull-ups, drilling and traveling has paid off."