Canfield High School bowler rolls a 300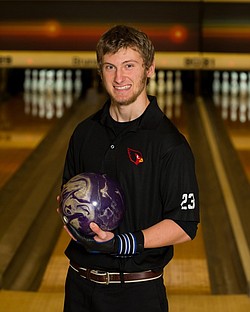 Photo
Mike Dercoli rolled a perfect 300 earlier this season as a member of the Canfield bowling team.
By NATALIE SCOTT
Canfield High School student Michael Dercoli rolled a perfect 300 game Dec. 17 during a match against Struthers.
"I was shocked, in a good way, when I got the 300. I usually have a bowling average of 210, and this was just a really great accomplishment for me," said Dercoli, a lefty. "I practice a lot, being on the bowling team. It's usually five days a week during the season and three days a week on my own."
Dercoli said he started bowling when he was about 6, but did not get into playing competitively until he was in middle school.
"I bowl because I just love doing it," he said. "Bowling has always been something I have enjoyed and I do it as much as I can."