Boardman's Mancini wins fourth EOWL title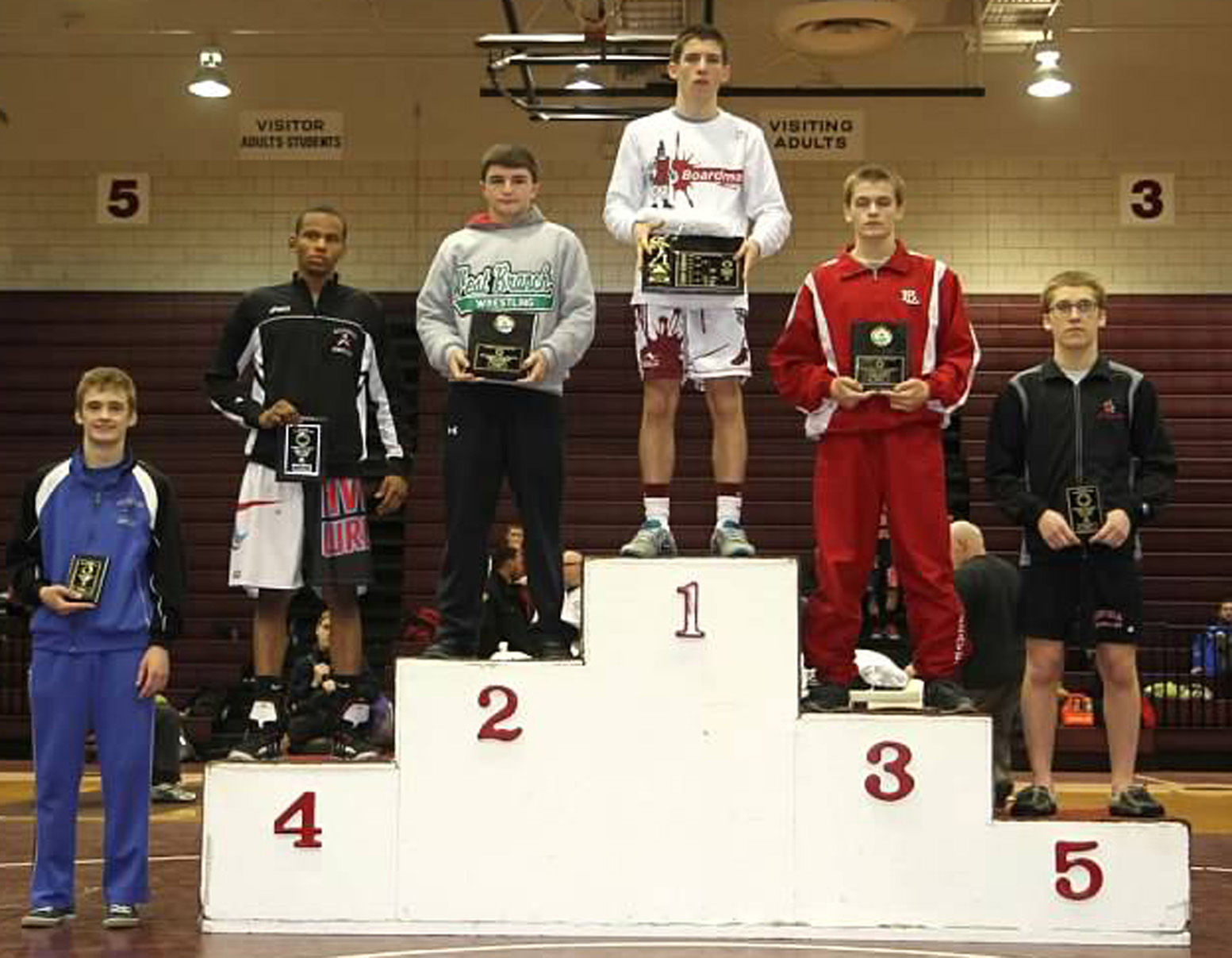 ---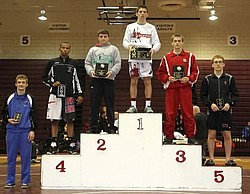 Photo
Boardman's Nick Mancini (middle) takes the top step on the awards podium after winning his fourth straight EOWL 120-pound title last weekend.
Two days before the lights went out in New Orleans during the Super Bowl, Valley wrestlers were left in the dark prior to the start of the 2013 EOWL wrestling tournament in Boardman last Friday night.
As the Valley's top grapplers warmed up for the tournament, the school lost power. The delay put the tourney's starting time back an hour to 6 p.m. and caused a long night of wrestling. Once electricity was restored around 5 p.m., wrestlers were given an hour to warm up.
But once things got started, it turned out to be a great weekend for the home team. In addition to several solid performances on the mat, the Spartans' mat program was in the spotlight because of the past. Three former Boardman wrestlers, including one who also coached there, were inducted into the EOWL Hall of Fame Saturday night before the finals.
On the mat, one Boardman wrestler cemented his legacy by making history. Senior Nick Mancini went 4-0 at 120 pounds and won his fourth consecutive EOWL championship, becoming the first wrestler in Boardman history and fourth overall since the tournament started to win four. He was also named the tournament's Most Outstanding Wrestler.
"It was a great weekend of wrestling at Boardman," said coach Dom Mancini, who is also Nick's father. "It is the first time we hosted the event since 1989. It got off to a shaky start with the power outage, which I understand was from someone running into a pole and a transformer catching fire. We didn't even know if we were going to get the tournaments started – we did weigh-ins with flashlights."
Boardman finished seventh overall out of 20 teams behind Mancini's effort as well as a few of his teammates.
"We wrestled tough all the way around," said Mancini. "We entered 10 kids and all 10 were in the tournament the second day."
Peter Ryan took second place in the 126-pound bracket after advancing to the championship match on Saturday night. Mario Graziani avenged an early-season loss to Beaver Local's Ron Foster to earn third at 132 pounds.
Matt Inghram rallied from a first-round loss to win the consolation bracket and place third overall. Joe Cordova advanced to the semis at 182 pounds, where he lost, but bounced back to win two consolation matches and take third.
West Branch piled up 236 team points to win the overall team title and the EOWL Division II crown. Canfield (204) took second overall and won the Division I trophy. Poland won the Division III team title, while Grand Valley claimed the Division IV championship.
2013 EOWL HALL OF FAME INDUCTEES
JASON NEAPOLITAN
Jason Neapolitan was a four-year letter winner, four-time EOWL place-winner, three-time sectional champion, two-time district champion and a two-time state qualifier for Boardman. He graduated in 1997 and capped an amazing senior year by placing fourth at the state tournament, winning his second consecutive EOWL championship and was named the tournament's Most Outstanding Wrestler.
JERRY PASQUALE
Jerry Pasquale has an enjoyed both a successful athletic and coaching career that spans more than four decades. He is a 1976 graduate of Boardman where he was a three-year letterman, two-time EOWL first team selection, 1976 EOWL Tournament champion and 1976 team MVP. Pasquale began his coaching career in 1982 which included 16 years at Boardman. Under his leadership, the Spartans won four EOWL championships, two EOWL tournament championships, and he was named EOWL Coach of the Year three times. He coached 33 first-team All-EOWL wrestlers, 18 district placers, five district champions, 14 state qualifiers and four state place-winners. His 1997 team finished eighth in Ohio, which is the highest finish in school history.
MAX PEARCE
Max Pearce began his wrestling career as a youth wrestler at age 11 in the Boardman youth wrestling program. As a young wrestler participating weekly at Austintown Fitch High School, he finished as a OYWA state qualifier. He went on to represent Poland as its first wrestler in 2001. To develop his skills, Pearce practiced throughout the EOWL where he was welcomed by coaches from Austintown, Canfield, South Range and Boardman. While at Poland, he was a Sectional champion and District runner-Up. He completed his high school career by finishing fifth at the 2005 state tournament. He graduated from Miami University in 2009.