Wolford goes coast to coast for YSU recruits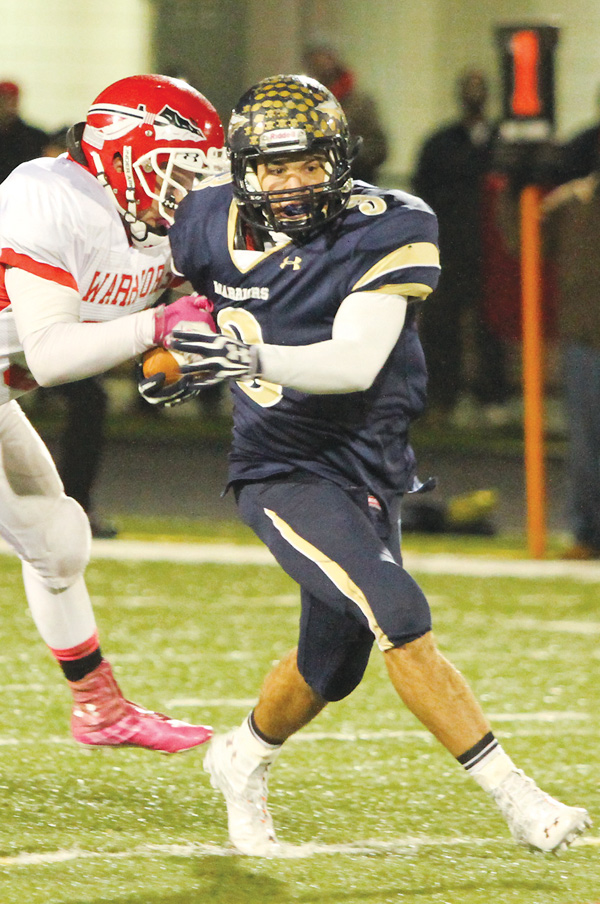 ---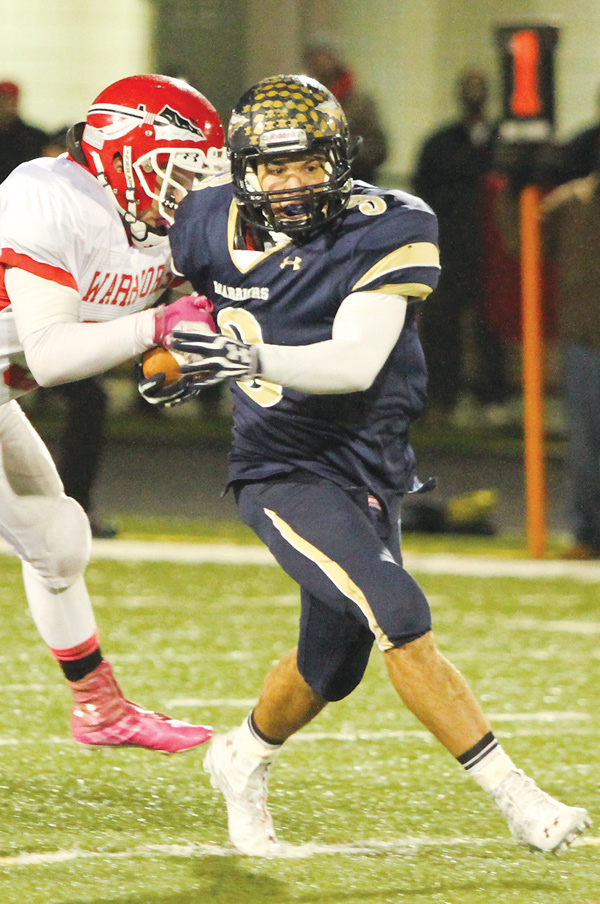 Photo
Brookfield senior Ryan Mosora, shown here during a game against Edgewood this season, was one of two area players to sign with YSU on Wednesday. Kicker Connor McFadden is also headed to YSU.
By Joe Scalzo
YOUNGSTOWN
When it comes to Youngstown State's football recruiting, the "State of Youngstown" has taken a back seat to the states of Florida, California and Pennsylvania.
Eric Wolford's fourth recruiting class includes six players from Ohio, including two from the Mahoning Valley, but it also has five players from Florida, three from California and three from the Carolinas.
"I don't get caught up in where a guy is from," said Wolford, who is 16-17 in three seasons, including a 7-4 mark last fall. "I like a lot of guys, but sometimes I can't get them. So you've got to recruit nationally. You got to get the best player available.
"We recruit coast to coast."
While Wolford targeted some of the Valley's best players early on — he said he was the first college coach to offer a scholarship to Fitch's Billy Price, who signed with Ohio State — he said it's gotten more difficult to find overlooked players in Ohio thanks to scouting services like Mark Porter's ScoutingOhio.com.
That's a problem for an FCS school like YSU, which has to compete with Ohio's eight FBS programs. (Nationwide, only Texas has more FBS schools, with 10.)
While Jim Tressel often focused on northeast Ohio when recruiting championship teams in the 1990s, Wolford has increasingly looked elsewhere, focusing on Pennsylvania and overlooked areas of Florida and the Carolinas.
"That's where you have to find players," Wolford said. "It's not easy to do. It takes work. When I come home, the dog barks at me like it doesn't know who I am.
"But it pays off."
Six of Wolford's 22 recruits are already enrolled, including five junior college recruits. The class is heavy on defense, with six defensive linemen, three linebackers and three defensive backs. Four of the defensive linemen were junior college transfers.
"There were two phases [in our approach]," said Wolford, who lost four starting defensive linemen to graduation. "At the mid-year signing date, I said I wanted to get our defensive line squared away and we did that. You win a lot of games up front.
"The second phase was continue to get some depth. When you have your program up and rolling, you want to be able to redshirt some guys so you'll be able to let them develop, You shouldn't have to play freshmen and sophomores."
Poland kicker Connor McFadden, the son of former YSU and NFL kicker Paul McFadden, and Brookfield's Ryan Mosora are the lone area recruits.
Both are likely to redshirt.
Mosora was recruited as an "athlete," having played running back, wide receiver and defensive back in high school.
"Right now I told Ryan, you need to come in here and play special teams and be an impact player there and let's see and watch your body grow and develop and see where you are in a year or two as far as pinning down a position," said Wolford, a Brookfield native who played his senior year at Ursuline.
Mosora, who ran for more than 4,000 yards and scored 50 touchdowns his last two years, said YSU started showing interest in the spring. He's been attending YSU's summer camps since he was a freshman.
"I was kind of set on them from the beginning," Mosora said. "I feel like it's a good fit for me.
"I don't think being a local guy gives me any advantage. It's just going to be about whoever comes in there and works harder and plays the best."
Last year's recruiting class of 19 featured just one area player, Mooney defensive lineman Austin Trgovcich, who has already left the program. Two other 2013 recruits have also left: freshman defensive lineman Anthony Szymczak and junior safety Chris Charles.
Also, quarterback Patrick Angle, who would have been a junior in the fall, left the program after backing up Kurt Hess the past two years. With Dante Nania switching from quarterback to safety in the spring, that left just two quarterbacks on the roster: Hess and redshirt freshman Nick Wargo. So the Penguins added freshman Ricky Davis, a 6-3, 200-pounder from Middletown, Ohio.
A Youngstown State source confirmed that the school is interested in former Mooney running back Braylon Heard, who will leave Nebraska after the spring semester, but several sources said Heard is leaning heavily toward transferring to Pitt, where he could play with former classmate Ray Vinopal, who plays safety for the Panthers.