Price, Smith, McWilson among Valley's top recruits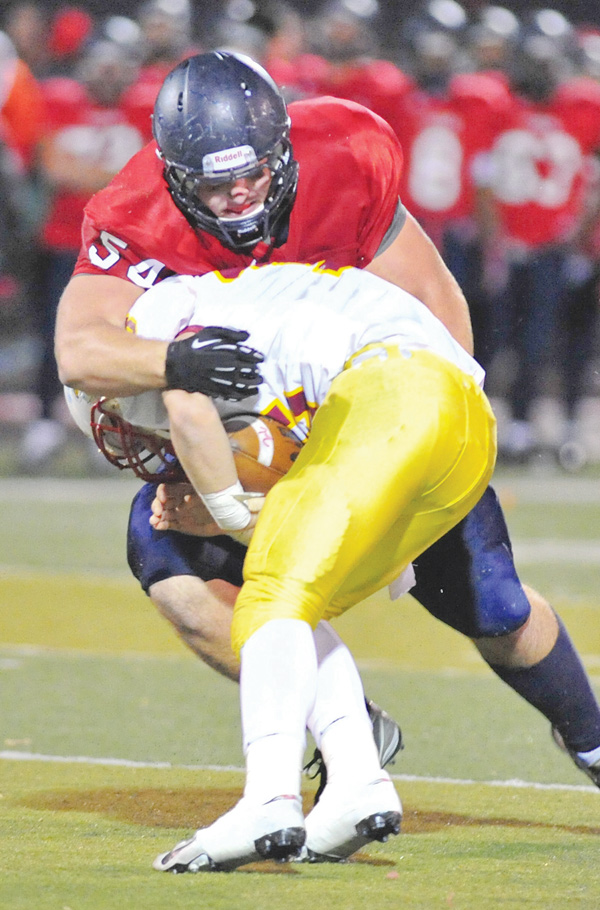 ---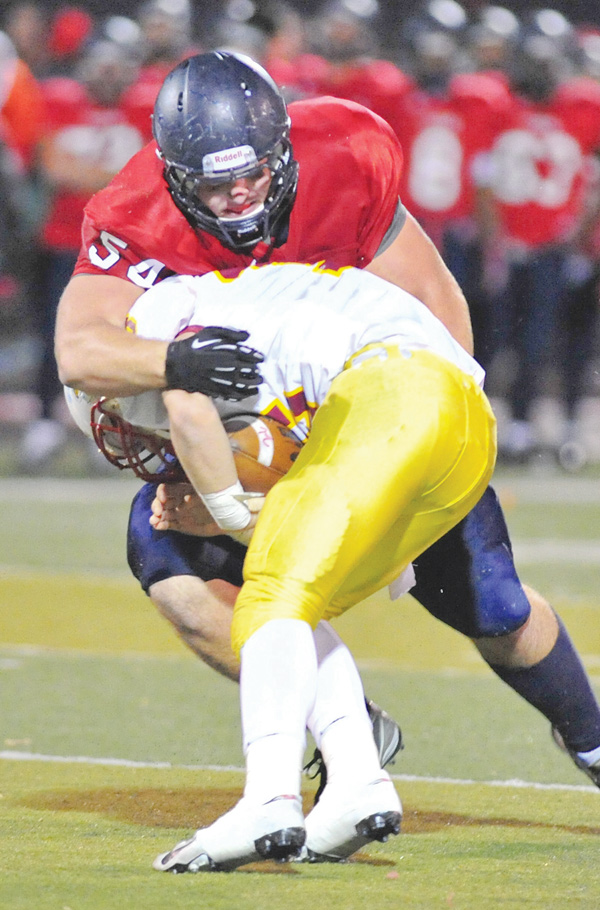 Photo
Fitch defensive end Billy Price (54) sacks Cardinal Mooney quarterback Jon Saadey (16) during the Falcons' 49-7 victory on Oct. 26, 2012, at Fitch Falcon Stadium. Price signed with Ohio State on Wednesday.
By Tom Williams
The Big Ten Conference's gain is five of the Mahoning Valley's top football talents.
Wednesday, Austintown Fitch's Billy Price (Ohio State), Howland's De'Veon Smith (Michigan), Cardinal Mooney's Courtney Love (Nebraska) and Warren Harding's LeShun Daniels (Iowa) and Jalyn Powell (Michigan State) accepted scholarships during college football's National Signing Day.
Price, the Northeast District's Division I defensive player of the year, expressed relief once his signature was on his letter-of-intent form.
"It's time," said the Falcon senior who said he will be defensive nose tackle at Ohio State. "I knew where home was so this is a big sigh of relief.
"It's the stamp on how it should be," Price said. "If you grow up in Ohio, you should be an Ohio State Buckeye. It's a dream come true. I'm proud to say another Youngstown individual [is going] to Ohio State."
Howland's Smith, who admitted he was nervous until he signed, said other Big Ten schools tried contacting him after his verbal commitment to Michigan.
"I didn't return any of the phone calls," said Smith, who added that he feels "big weight has been lifted off my shoulders. I'm happy I got it done and over with.
"Michigan felt like home more than any other school I visited."
Sports management, physical therapy and engineering are majors he is considering.
Harding head coach Steve Arnold noted how Daniels, a running back, and Powell, a defensive back, will be facing off against each other.
"You'll be seeing a lot of those guys on Saturday afternoons the next four years," Arnold said. "They have a lot of potential."
Daniels had verbally committed to Boston College and changed his mind when BC replaced Frank Spaziani with Steve Addazio in December.
"Biggest sigh of relief I've ever had," said Daniels of his signing. "It has been a long process, with a lot of ups and downs. To finally have it all over, I can focus on the rest of my senior year."
When Boston College made its coaching change, "Iowa started recruiting me heavily," said Daniels, who said he was still getting offers after committing to the Hawkeyes. "I told them, 'No, I was good.' "
Arnold advised Daniels to inform Boston College immediately of his change of mind. Addazio visited Daniels, but by then Iowa had become his favorite.
"He really fits that style that Iowa does," Arnold said. "Coach [Kirk} Ferentz loves to run the football."
Arnold said guiding Daniels through the change "is part of my job. What I tell our kids all the time is do what's best for you."
Powell said Michigan State was the only major school that showed interest.
"I think it's because I've been committed for almost a year," said Powell, whose uncle, LaVaile Richardson, was a receiver for the Spartans in the late 1990s.
"I've [followed] the program so long that it felt like home," Powell said. "I always went to their games when I was younger.
"It's always been a dream of mine to play football in the Big Ten," said Powell who said signing felt "unbelievable. Hard work paid off."
Love already is enrolled at Nebraska.
The Big Ten almost had a sixth Valley player. Mooney's Marcus McWilson had verbally committed to Nebraska before changing to Kentucky last month.
"I went down there with an open mind, I was still committed to Nebraska," McWilson said of his visit to Kentucky. "I was definitely shocked and definitely happy with what I saw, from the people to the players to the coaches.
"It was a great atmosphere and a beautiful town, I just loved it down there," McWilson said.
Mooney coach P.J. Fecko said Kentucky is getting "a great kid, a great person on and off the field, someone who understands the responsibilities a student athlete has."
Like Smith, Price said he was still contacted by coaches even after he made his verbal commitment to Ohio State.
"It eased off a little bit but [non-Big Ten] schools contacted me," Price said.
"Recruiting doesn't stop [if] you are verbally committed — people are still going to try and come get you."
Price never wavered.
"Once you go [to Columbus] and see the facilities, you have an expectation," Price said. "If you go anywhere else and that expectation is not reached, it's ... you see the best and you want to be the best. So to be in another facility that wasn't adequate enough, it kind of shows."
Price is aware that his dream comes with extra attention.
"To be a Buckeye, it's a whole other responsibility," said Price who will major in business. "You've got make sure you represent the community with the utmost honor.
"You're the center of attention for Ohio, you're the icon for the state of Ohio nationwide," Price said.
"You've got little kids looking up at us and we've got to make sure we set the example."
Price was one of six Falcons to accept scholarships. Quarterback Matt Futkos (Clarion), offensive lineman Mike Koch (Notre Dame College), running back/special teams player Billy Aaron (Notre Dame College) and linebacker Deven Gray (Walsh) signed with Division II schools.
"The difference between D-I and D-II is height and frame," Price said.
Running back/defensive back Anthony Smith signed with William Penn, a NAIA school that Fitch head coach Phil Annarella said will become Division II in 2014.
"I thought there should have been more [classmates getting scholarships]," Price said. "We have a ton of great athletes."
Two other Howland seniors joined Smith in signing scholarships.
Brendan Cope chose Ohio University where he hopes to be a wide receiver. Offensive lineman Ben Falfas will be joining Fitch's Koch and Aaron at South Euclid's Notre Dame College.
Cope visited Toledo, Bowling Green and Iowa before making his choice.
"I just loved it there, I have an aunt who is about a mile away from there so I've been in Athens a few times before," said Cope, who is leaning toward a business major.
"I absolutely love the coaches and think I can help out down there."
Cope, who played quarterback, running back, flanker, defensive back and even long snapper for the Tigers, said that while signing his form, he took a big, deep breath.
"The recruiting process is a long one," he said. "I'm happy [it's over]."
Falfas confirmed Price's assessment about size, saying Boston College showed interest in him, then told him he wasn't big enough. He's happy with his choice.
"The fact that you get to go to the next level is something a lot of people don't get to do," said Falfas, who will major in business management. "I feel very fortunate — it was totally worth the grind."
Falfas said he'll be a hybrid back (fullback/tight end).
Boardman's identical twins Justin and John Babos signed with Division II University of Charleston (W.Va.).
"It's an honor, a lot of kids don't get to play with their brother in college," Justin Babos said. "That's the greatest feeling ever, to play with your brother."
John Babos said, "We always planned to go together."
The brothers told interested colleges that "it was a package deal," John said.
Justin will be an inside linebacker while John will be a fullback.
"They are ranked 25th in the nation for Division II, so their program is only going to get better and better," Justin said. "I didn't want to go to a college that's going to lose.
"The last two years, they've been pretty good so that sealed the deal."
Harding cornerback O'sha Jackson signed with Ohio Dominican, a Division II school in Columbus. He called his decision "life-changing."
"Growing up in Warren, it's a tough place to get out of and if you get caught up, you get stuck here," said Jackson, who will study business management. "I can't get stuck here."
Annarella said other Fitch seniors are still looking.
"But having six signing scholarships is a real tribute to the young men and their families," Annarella said. "We're proud of them."
Vindicator Sports Editor Ed Puskas contributed to this report.