Local apples come to Youngstown schools through co-op, grant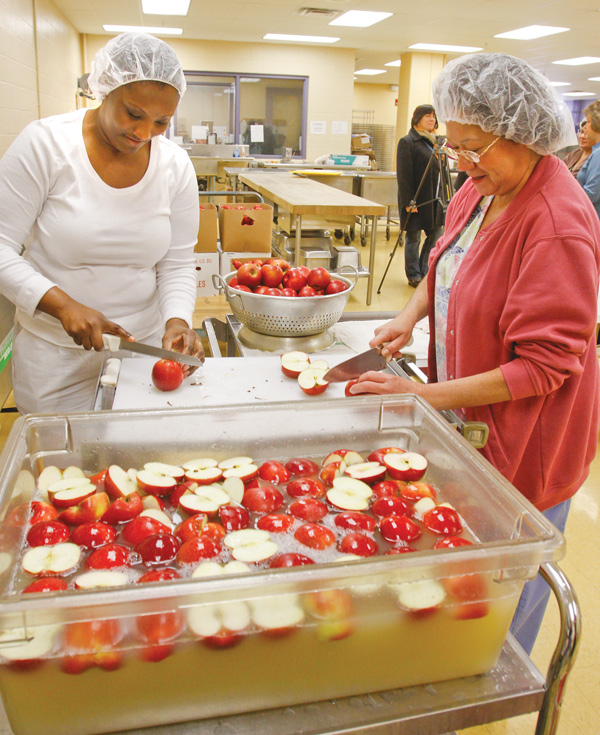 ---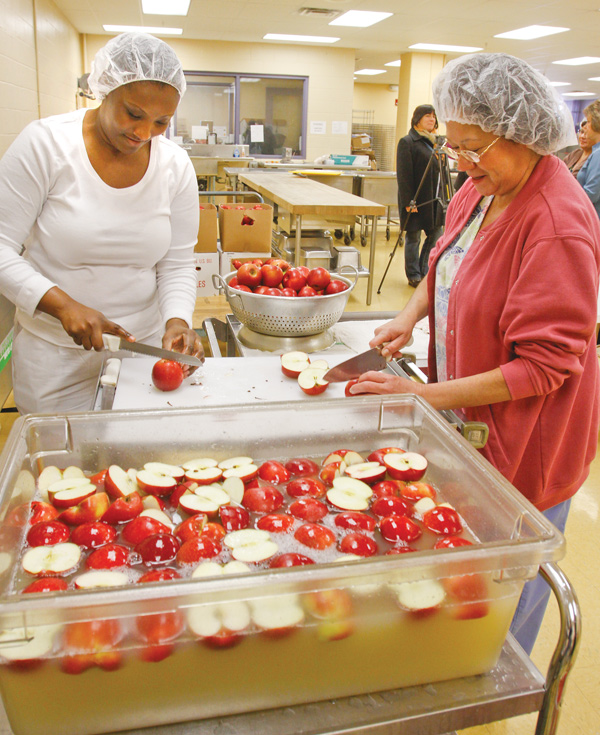 Photo
Shauna Spencer, left, and Mary Flores wash, cut and prepare thousands of apples for elementary school students' lunches at the Youngstown City Schools' central kitchen at Choffi n Career and Technical Center. The district bought the apples, which were grown in Greenford through the Lake-to-River Food Cooperative with the help of a grant.
By Denise Dick
Youngstown
Thousands of apples poured into the Choffin Career and Technical Center kitchen Wednesday where they were washed, sliced and prepared for today's elementary-school lunches.
The Rome apples from Huffman Fruit Farm in Greenford made their way into city schoolchildren's lunches through the Lake-to-River Food Cooperative of Youngstown.
Sue Paris, the district's food service coordinator, has been buying apples through the co-op since last year, but prices early this year stopped her from buying apples at all.
"We always look at price," Paris said.
Last year's weather resulted in lower yields from apple growers, who then had to raise the prices.
But Goodness Grows of North Lima, a nonprofit organization, secured a grant through an Ohio State University endowment to help the district buy apples from local growers.
The effort is part of what Goodness Grows calls Youngstown Eats, a project aimed at giving students a choice in what food is served at schools.
Melissa Miller, marketing manager for the co-op, said the agency brings local produce to 10 schools in Mahoning and Trumbull counties including the city, Warren, Austintown, Boardman, Girard and Joseph Badger.
The produce comes from farms in Mahoning, Trumbull and Ashtabula counties.
"It tastes better, it's fresher, and it brings money into the economy in our community," Miller said.
Meagan Tehua, Goodness Grows program director, said that last summer as part of Youngstown Eats, city school students from kindergarten through 12th grade participated in taste tests of dishes prepared with locally grown produce.
Students identified blueberry applesauce cake, rhubarb berry parfait and summer squash goulash as some of their favorites.
Taste tests are planned this month with locally-grown apples.