Bogey's burgers are the beginning of a beautiful friendship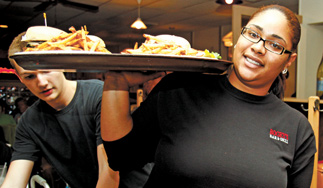 ---

Photo
Kesha Rhodes, waitress at Bogey's Bar & Grill, delivers meals to the Burger Guyz.
When You Go...
Where:
Bogey's Bar and Grill
3535 Upland Rd
Lowellville, Ohio 44436
Phone: (330) 750-6062
Hours:
Mon - Thurs: 11 am - 10 pm
Sat: 11 am - 11 pm
Sun: 11am - 8 pm
Menu:
8 burgers ($6.50 - $7.99) served with pickle & fries
Bogey's burger is "the beginning of a beautiful friendship"
By Anthony M. Fuda
Here's looking at you, kid, um, burger -- and an excellent tasting burger it is!
Bogey's co-owner Bob DeVicchio told us they were originally looking to create a golf-themed bar.
They took some shirts to get a logo printed on them by a friend, but that friend put a photo of Humphrey Bogart on instead, and Bogey's Bar and Grill was born.
As you walk in, images of Bogart adorn the walls, and if you close your eyes you can hear that piano in the distance.
We didn't have Sam to play for us, but our waitress, Kesha Rhodes, took care of us just the same. She was very attentive in making sure our meals were perfect and our drinks never saw the bottom.
The regular menu offers eight Famous 1/2# Burgers, and we thought the selection was great: Bogey (shaved ham, BBQ, grilled onions, provolone on a Kaiser), Green (Italian greens, provolone on a Kaiser), Steel City (their famous burger on a Kaiser), Rodeo (Onion Rings, BBQ, American cheese on a Kaiser), Carmen's Way (Bacon, Swiss, Provolone on a whole wheat bun), Portobello (Portobello mushroom slices on a Kaiser), Pretzel (provolone, honey mustard on a Pretzel Bun) and the A-1 Steakhouse (provolone, A-1, onion rings, bacon on a Ciabatta).
All the burgers are served with pickles and fries, and lettuce, tomato and onions are available upon request. You can substitute your side for a cup of soup or a house salad for $1.
We made our choices and were excited when the burgers arrived and exceeded our high expectations. Before we dive in, we take a flavor bite to see how well the beef is seasoned and cooked. After we each had our bite, we looked and each other and we all knew this was something spectacular.
I then dove in to my Green Burger and absolutely loved the mix of Italian greens, provolone cheese and perfectly seasoned beef. Each flavor complemented the other as the meat melted in my mouth while the gooey cheese and hearty greens kept me wanting more.
The Kaiser rolls were good, but the Ciabatta and Pretzel Bun really added to their respective burgers.
Johnny had the A-1 Burger and said, "It was seasoned to perfection. The toasted Ciabatta roll was crusty and firm with a soft center and held up to the last bite. The burger was moist and juicy and blended with the toppings. It was truly a burger to die for. Paired with a generous helping of hand cut fries this feast rates as a 5 out of 5 on my wet-nap scale. Bogey's, I think this is the beginning of a beautiful friendship"
JT went with the Pretzel Burger and commented, "The pretzel bun was very good, a nice change-up from a traditional bun. Loved the honey mustard. The overall burger; an enormous WOW! I have to question on just how much better a burger can be? For me, this may be the Holy Grail of burgers. But, I will continue to search, just in case!"
We found out from Bob that we missed Burger Night by one day. He showed us Thursday's menu with nine more burgers and a Build-Your-Own feature.
A couple of minutes later Kesha was holding a plate with three more burgers for us to try, to showcase for us some of Burger Nights' selections. There was a Crunch Burger which had hot chips, cheddar cheese and french onion dip -- excellent; A Frisco Burger with mozzarella with special dressing between thick sliced grilled sourdough -- excellent; and a South of the Border Burger with nacho cheese salsa, jalapeno and tortilla chip on a Kaiser -- just like Nachos and cheese at the ballgame, except on a burger.
As he was checking on other patrons in the grill on their various meals, co-owner Carmen Lofara stopped by and made sure our burger hungers were quenched.
We are glad we walked in this gin joint in this town to have this burger. As time goes by, you'll have to go and try this burger. This is one burger where after one bite, you want every bite to be like the first -- and it is.
Four of our last five burgers rated 4 1/2 stars, and that's because of the great suggestions we receive. Keep sending them to mvbrb@hotmail.com, and like the Facebook page Burgerguyz so you can keep up with all the freshest burger news.