Retired cop calls for legalization of drugs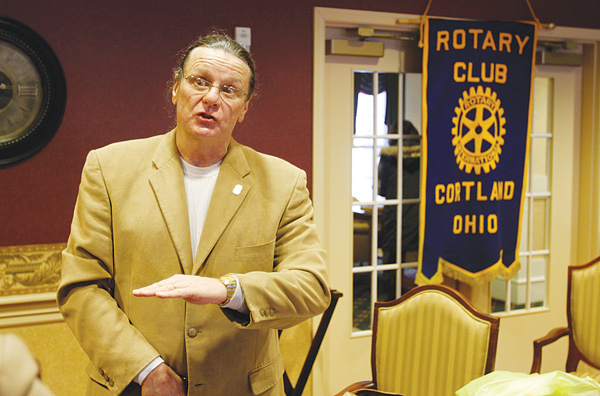 ---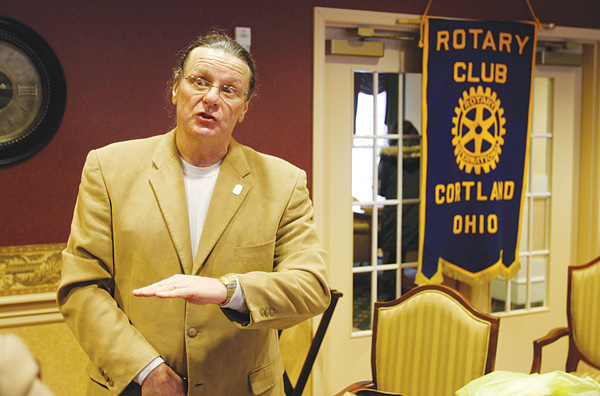 Photo
Peter Christ, a retired New York police officer and member of Law Enforcement Against Prohibition, explains his reasons to the Rotary Club of Cortland why he favors legalization of marijuana and other drugs. He spoke Tuesday morning at Lake Vista of Cortland retirement community.
CORTLAND
Imagine a society where a person could walk into a store, present identification and purchase drugs that currently are illegal.
That is the society retired police officer Peter Christ and other members of Law Enforcement Against Prohibition (LEAP) envision, and they say we all would be made better off in it.
Christ, who retired from a police department in New York after 20 years' service, spoke about legalizing drugs Tuesday morning to the Rotary Club at the dining hall of Lake Vista of Cortland retirement community on Mecca Street.
Christ said the legalization and regulation of drugs just makes sense because the long-standing war on drugs just isn't working.
"I realized during my time with law enforcement that what we are doing is causing more harm than what we are trying to stop," he said. "When somebody wants to do something, and another adult wants to do it with them, that is not a crime."
Christ said most people would agree that drugs are bad, but that, he said, is not the issue. He said the central issue is freedom. As an example, he said alcohol did not make Al Capone, the famous gangster, rich; prohibition did.
"If you cannot make the drugs go away, then the question isn't 'How do we make drugs go away?' The question is 'Who will run the marketplace?,' because there will always be a marketplace," he said. "I happen to prefer a well- regulated marketplace."
With legalization, Christ says, society can regulate the use of drugs just like there are regulations on alcohol and cigarettes. As it stands now, he said, anyone with money can purchase and use drugs in an underground environment.
Christ gave a list of additional reasons why the legalization of drugs, currently described as illegal, would benefit society, including decreasing violence between warring drug factions, selling better- quality products, creating safer environments and spending more money for treatment diverted from funds now used for prisons.
Ken MacPherson, another LEAP member, said the fight to legalize drugs for him and his family is personal. His stepson became addicted to heroin and finally, after taking some bad drugs, died. He said legalization would ease the pain for thousands of families like his own.
"For me, this is personal. ... My story is one of thousands," he said.
Youngstown Police Chief Rod Foley said he can understand an argument for decriminalization of drug use, but not legalization.
Legalization, he said, would only create more drug users and problems for police and society as a whole.
Foley said with decriminalization of use, police could still go after the sellers but seek help for the users instead of simply locking them up.
Christ said the legalization of these substances is coming, and when it does, we will be able to educate society, especially children, against the use of drugs, going far beyond the "just say no" cries heard for the past several decades.
"It could happen today or it could happen tomorrow, but it will become a reality," he said.