Missed foul shots costly in YSU's loss to CSU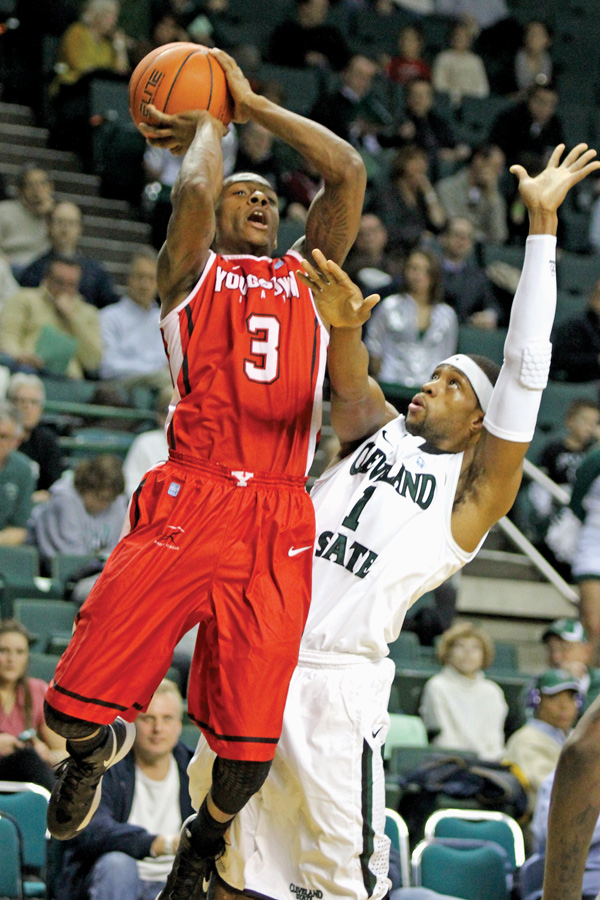 ---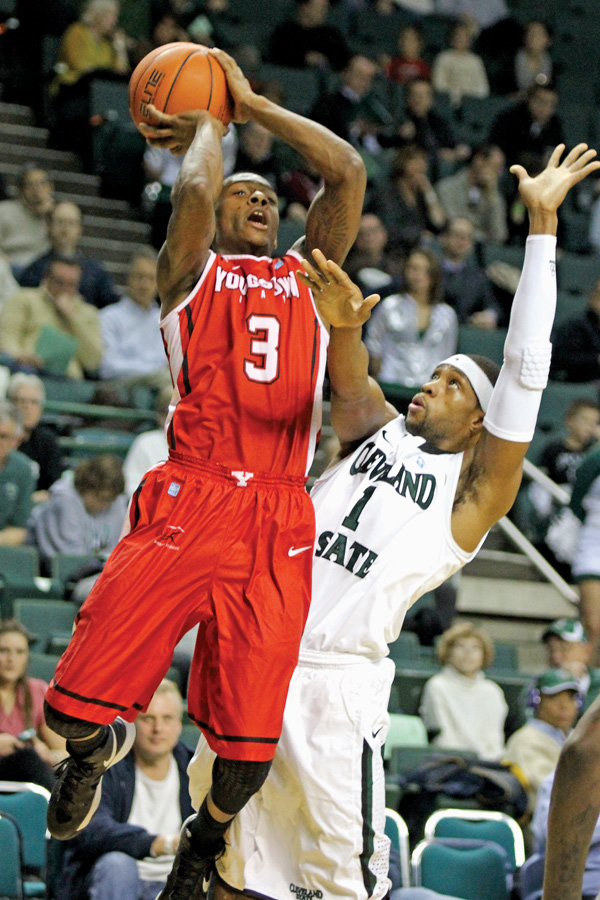 Photo
Youngstown State's Kendrick Perry (3) attempts a jump shot against Cleveland State defender Sebastian Douglas (1) during the first half of Tuesday's game at Wolstein Center in Cleveland. The Penguins came up short, losing 66-60.
Cleveland State's Long scores game-high 23,
YSU falters at free-throw line in loss
By Joe Catullo Jr.
Cleveland
With 16:59 remaining against Cleveland State on Tuesday, Damian Eargle fouled on a loose-ball play but a caught a break when Devon Long picked up a flagrant foul for poking Eargle in the eye.
Eargle went to the charity stripe with the other nine players beyond the half court line. Eargle missed both attempts, summarizing the night for Youngtown State.
The Penguins played stride-for-stride with the Vikings but fell, 66-60.
"Give Cleveland State credit," YSU coach Jerry Slocum said. "They played hard, but we gave a gift away."
The biggest difference was free throws, which the Penguins (13-10, 5-5 Horizon League) missed 11 overall and seven in the second half. The Vikings (12-12, 4-6), on the other hand, made 14 of 17.
Another key to Cleveland State's success was Long, a junior starting forward who averaged 5.5 points per game heading into Tuesday. He scored 23 against YSU.
"I think we just came out flat-footed a little, and we just kind of got out-worked," Penguins freshman forward Bobby Hain said.
Long can thank Bryn Forbes for the 23-point effort. During YSU's 73-59 victory against CSU on Jan. 26, Forbes scored 19 points. DJ Cole, Kendrick Perry and Blake Allen held the freshman to four points on Tuesday, leaving the lanes open for Long.
"Our bigs didn't play very good tonight," Slocum said.
Eargle played 21 minutes and Hain compiled 18. They were the players most responsible for guarding Long. Eargle and Long are each 6-foot-6, but Long carries an extra 35 pounds. Hain is 6-10, but 25 pounds lighter.
With Eargle in foul trouble throughout, Hain filled the void and led the Penguins with 15 points. Allen finished with 14 points and made three 3-pointers, putting him three away from breaking the school record of 198 career 3-pointers, set by Craig Haese from 1997-2001.
Perry, averaging 16.5 points per game before Tuesday, finished with five.
"We just all have to step up, and if he's having a rough game, everybody else has to step up big," Hain said.
YSU struggled in the first half and trailed by seven heading into the locker room. They even trailed by nine two minutes into the second half. After trading 3-pointers, the Penguins bolted to a 14-2 scoring run, giving them a three-point lead.
Missed free throws and layups gave the Vikings an eight-point lead with 3:26 remaining, when Kamren Belin converted a four-point play.
During crunch time, the Penguins kept fouling, and CSU continued making free throws. When the Vikings kept fouling, YSU converted half its foul shots.
"This was a very, very poor effort on our part," Slocum said.
The Penguins began Tuesday tied for fourth place in the Horizon League. They will have a good chance of catching up with their next four conference games at Beeghly Center, beginning on Thursday against Loyola.