East High's Big Man dominates in Brookfield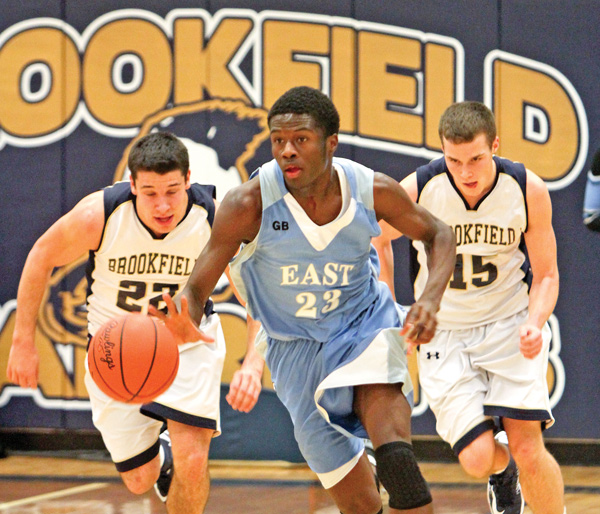 ---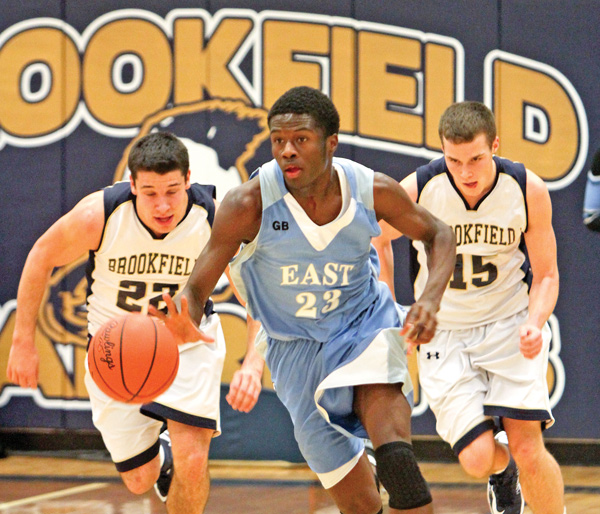 Photo
Brookfield's Ryan Mosora (22) and Jeremy Quinlan (15) pursue East High's Taylor Johnson (23) as Johnson breaks away down the court during Tuesday's basketball game at Brookfield High School. The Panthers defeated the Warriors, 75-62.
East High's Big Man dominates in Brookfield
By Tom Williams
BROOKFIELD
After playing his third game in five nights, East's Deontay Scott admitted, "I'm tired, a little winded."
He had reason to be. In Tuesday's 75-62 victory over Brookfield, the Panthers' big man scored 29 points and made 14 rebounds, eight blocks and 12 assists.
"He does the dirty work," Panthers coach Dennis Simmons said. "If it's loose, he's going to get it. He has a knack for the ball.
"And with a 4.2 [grade-point average], he puts it to use."
Brookfield coach Bill Kovach credited East for challenging his Warriors (12-3).
"Their size and strength really wore on us," Kovach said. "Deontay Scott, he's a man.
"They played us hard [man-to-man], it was good for us," Kovach said. "That's a big Division I school and it's only going to help us in the tournament."
Scott scored nine points in the first quarter as the Panthers (13-6) jumped out to 15-7 lead.
But the Warriors didn't quit, outscoring the Panthers 16-12 the rest of the first half.
Senior Jeremy Quinlan opened the third quarter by scoring five points, giving Brookfield its last lead, 28-27.
East point guard Marquis Cotton took charge, scoring 14 points in the third quarter to propel the Panthers to a 55-45 lead.
Cotton's five baskets included three 3-pointers. He said he couldn't remember ever having a better quarter shooting.
"I think that's a career high," said Cotton, saying that his long-range secret was that he was "wide open so I just put it in. I work on it all the time."
Scott said Cotton's success, which triggered an 11-2 run, was the key.
"When Marquis started hitting, I felt like everybody [else] started playing their role, got their rhythm," Scott said. "When we get both sides going, we're really an unstoppable team."
Quinlan agreed.
"We couldn't stop them, they kept hitting shots," Quinlan said. "And when they hit shots, they are a very good team. It's was a pretty big run."
The Warriors were in trouble when Quinlan was assessed his fourth foul in the final minute of the third quarter.
The first 90 seconds of the fourth quarter proved costly. After Ryan Mosora picked up his fourth foul, Quinlan fouled out with about 6:35 to go.
Quinlan finished with 20 points, two short of 1,000 for his career. He led the Warriors with 12 rebounds.
"He's a tough ballplayer," Simmons said. "You don't get close to 1,000 points without being a good player."
Simmons described the game as "ugly." He wasn't referring to Quinlan's split lip and loose teeth.
"I wish it was a lot prettier, but at this time of the year, you take the W," Simmons said.
Cotton scored 21 points and made seven assists. Terrell McClain scored 10 points.
For the Warriors, Collin Harkulich scored 14 points and made five assists.