Game of Cards: Canfield edges Mooney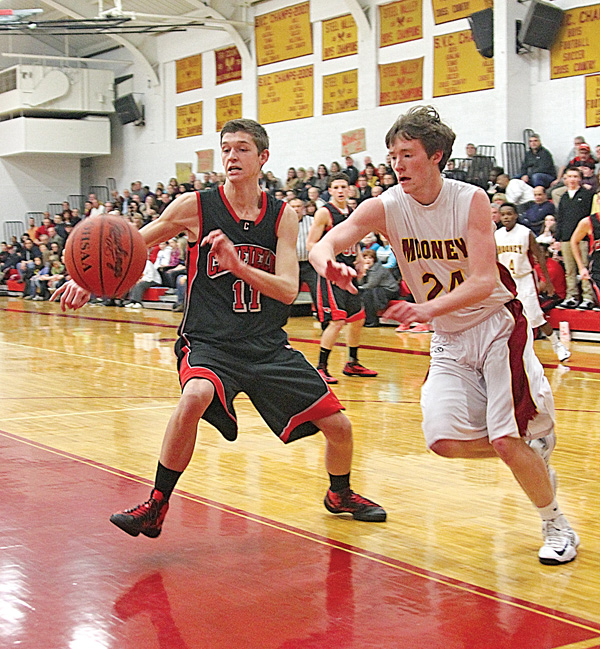 ---

Photo
Canfield's Andrew Midgley (11) and Cardinal Mooney's George Brandenstein (24) chase the ball during their basketball game Tuesday at Mooney High School in Youngstown. Canfield edged Mooney, 60-59.
By Greg Gulas
YOUNGSTOWN
If Tuesday night's boys basketball game between Canfield High and Cardinal Mooney was, in fact, the last between these two Mahoning Valley rivals, then coaches, players and fans alike will have to look elsewhere for their edge-of-seat excitement.
Canfield raced to the early 20-5 lead, fell behind in the fourth quarter on a Cardinal Mooney surge and then held on for a thrilling 60-59, come-from-behind victory.
Marco Delorenzo scored a team-high 20 points while Andrew Midgley added 12 points as Canfield (14-3) won for the 10th time in 11 road outings.
"We came out wanting to push the tempo, but ran out of gas," Canfield coach Todd Muckleroy said. "We knew that Cardinal Mooney would make a push, but we're young, and found a way to weather that storm,
"I'm proud of our kids because they buckled down when the game was on the line. The atmosphere was great, especially for a Tuesday night and while some of that might have been due to the anticipation of perhaps this being the last game between the two schools, there was plenty of excitement on both sides."
Delorenzo scored eight points in the opening period, including two buckets from beyond the arc to spark Canfield's early run.
Cardinal Mooney (7-9) then went on a 20-7 run, keyed by Doug Caputo's six points and five each by Mark Handel and Joe Cunningham, pulled to within 27-25 with a little over a minute remaining in the half.
Buckets by Delorenzo and Brady Clark then helped Canfield close with a 4-0 run of their own to forge a 31-25 halftime advantage.
"I warmed up with my regular routine tonight, but the shots just kept dropping for me," Delorenzo said. "We got off to a fast start and when they took the lead, we just felt as a team that we had better make stops if we expected to win.
"When we stop them defensively and push the ball, we usually get good looks at the bucket."
Cardinal Mooney reeled off eight of the first 11 points in the second half to pull to within 34-33, but a triple by Delorenzo increased the Canfield lead to 37-33. Canfield eventually settled for a 44-40 advantage heading to the final stanza.
A bucket by John Schiraldi gave Canfield a 46-41 margin less than a minute into the fourth period, but a triple by Joey Kleeh and three-point play by Caputo helped Cardinal Mooney on a 10-0 run as they opened a 51-46 advantage.
With the score 53-48 in favor of Cardinal Mooney, a triple by Delorenzo and follow-up bucket by Midgley knotted the game at 53-apiece with 2:57 remaining.
"Coach Muckleroy told us during a timeout just to keep applying pressure and that is what we are about defensively," Midgley said. "This was a huge win because we wanted to get our momentum back with Poland coming up on Friday."
Caputo, who had a game-high 23 points, then hit a bucket in the lane to give Cardinal Mooney a 57-55 lead with 1:31 left.
Five free throws and a Delorenzo bucket in the final 58 seconds enabled Canfield build a 60-57 margin, while a Caputo bucket with one second remaining then rounded out the scoring.
"The atmosphere was great, the game was great and everything came down to one possession," Cardinal Mooney coach Brian Danilov said. "We dug a hole early for ourselves but to our credit, we didn't quit and just kept fighting back.
"We'll learn from our mistakes. Hopefully we won't repeat them and then we can win some of these close games."